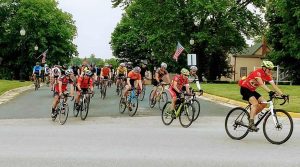 The Spring Valley 100 Gravel Bike Race will be returning to Spring Valley on June 5th! The Spring Valley 100 Gravel Race is a free to the public, self-supported gravel race through southeastern Minnesota's beautiful rolling hills. The event starts in downtown Spring Valley at 8:00 AM. This event will take place as part of the City's Summer Music in the Park kickoff event. Food vendors (food for purchase) and live music will be available in Spring Creek Park as riders roll into town!
        All participants in the Spring Valley 100 must register for the event and submit an Event Release/Waiver of Liability. On-site registration will be available at City Hall , 201  S. Broadway in Spring Valley,  on Friday, June 4th from 4:00-7:00 PM and the morning of the race from 6:30-7:30 AM.   Participants are urged to register for the event online at the below link
        All participants must also agree to abide by the most up-to-date Center for Disease Control (CDC) 's recommendations for preventing the spread of COVID-19, including social distancing, and will need to attest to having read the CDC's guidance provided on the registration page.
Rules:
The Spring Valley 100 is a self-supported race. You are responsible for yourself.
Be a good citizen. Share the road. Police your own debris.
All riders must wear a helmet; gloves are highly encouraged.
We strongly discourage any chase vehicles from driving on the course during the event.
No support vehicles following riders; absolutely no hand-up support is allowed; this is for all riders' safety and enjoyment.
The race takes place on open roads; all Minnesota road laws apply to all cyclists on the course.
        For more information or questions about the Spring Valley 100 Gravel Race, the route, or equipment, please contact Paul Vogel at Pvogel3634@aol.com or call 440-829-2652.
        Participants are encouraged to REGISTER HERE
        We'll provide the start and finish lines; the adventure in between is all you!