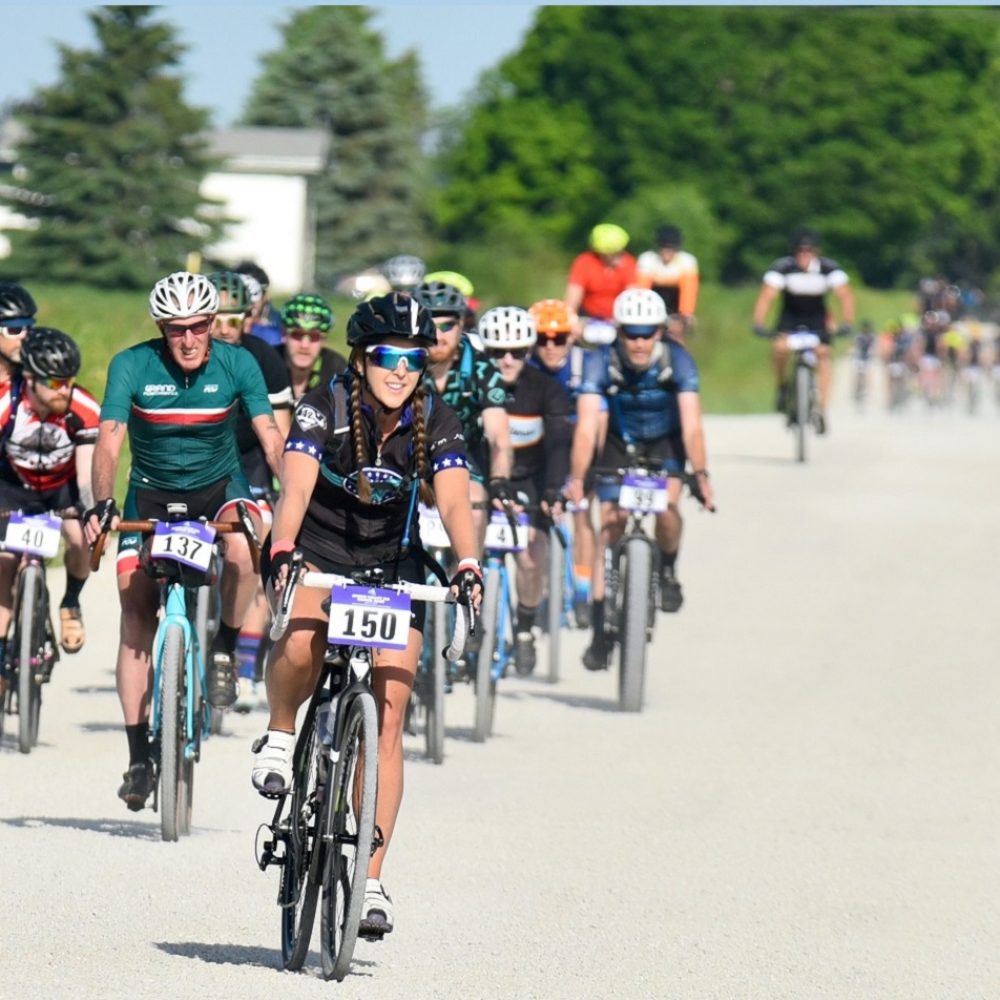 2022 Spring Valley 100 Gravel Bike Race
The Spring Valley 100 Gravel Bike Race returns to Spring Valley May 21, 2022
The event rolls out from downtown Spring Valley at 8:00 a.m.
The Spring Valley 100 Gravel Race is a free to public, self-supported gravel road race
through southeastern Minnesota's rolling hills and challenging Bluff Country USA. This is the 13th consecutive year a 100-mile, barrier-free gravel race has rolled out from Spring Valley and we're looking forward to seeing you at the Start and Finish lines!
Registration
All participants in the Spring Valley 100 must register for the event,
and submit an Event Release/Waiver of Liability.
Registration option and bib pickup:
The 2022 Spring Valley 100 Route map and Cue sheets are now available on RideWithGps.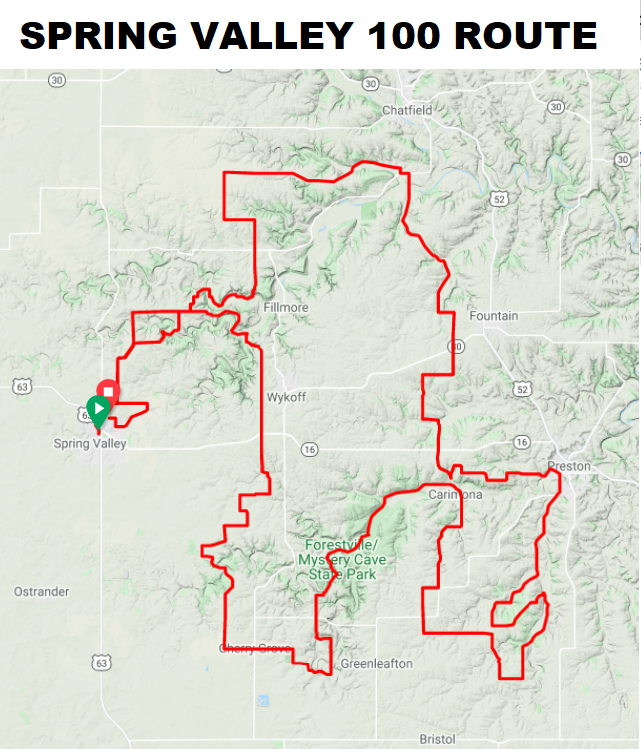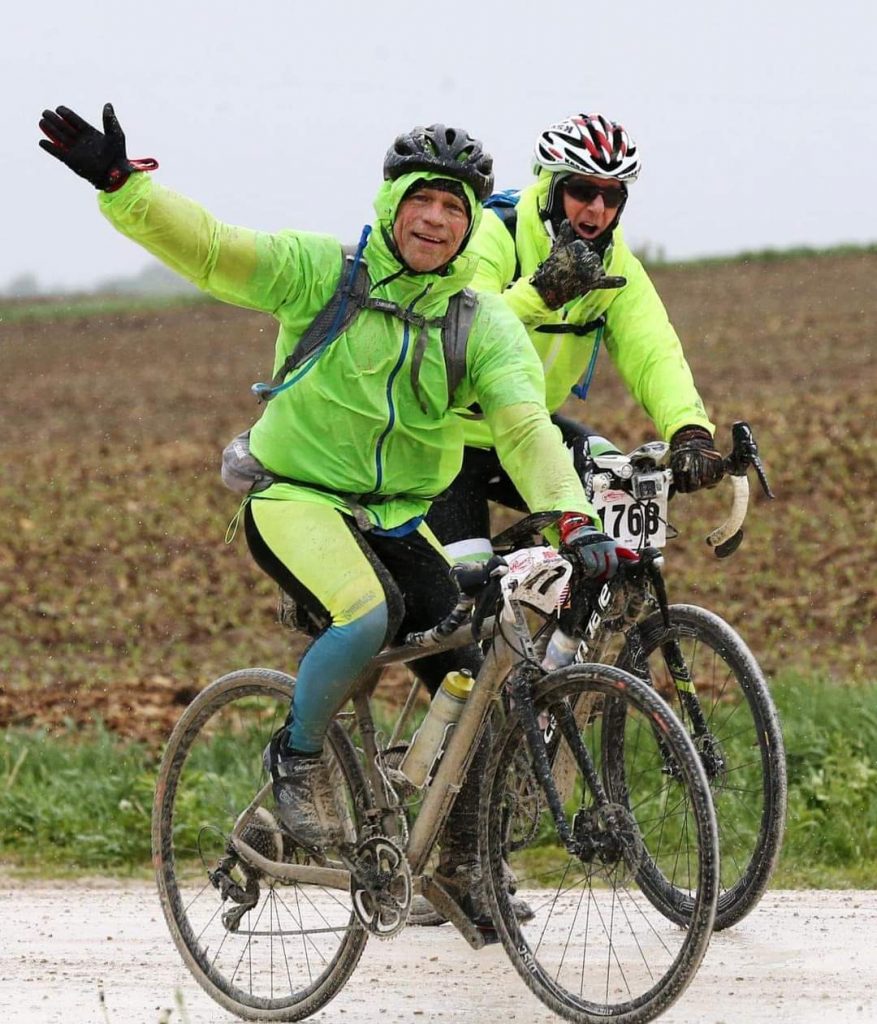 Information
For information on where to eat and enjoy Spring Valley while you are here, check out our local businesses.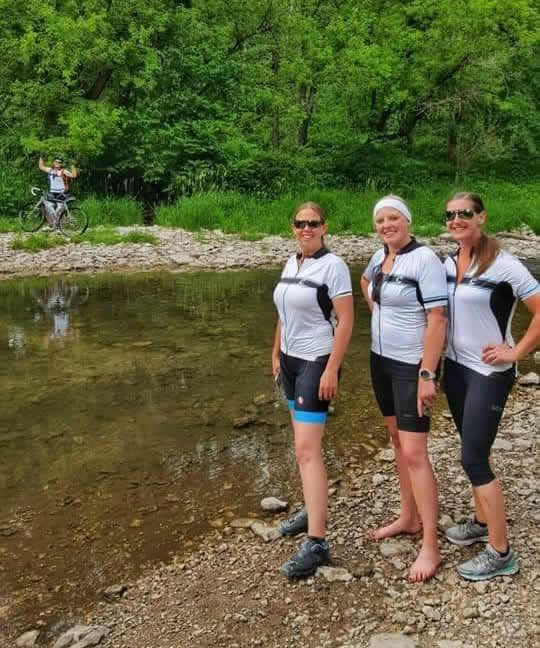 ---
Race Reports
As we get closer to the 2022 Spring Valley 100 Gravel Bike Race, make sure to check our Race Reports for additional race information, course updates and post-race fun/recovery activities for this year's race.   You can also check out last year's Spring Valley 100 Gravel Bike Race here!
Congratulations to all SV100 racers who formed up on the Starting Line on a brisk Saturday morning. I believe all in attendance will agree that after the first hill climb the conditions were ideal for gravel racing; previous days' rains kept the dust in check, the temp was absolutely perfect, the wind was extremely favorable to push us to Preston and the sun/passing cloud mix was just right, although my son has a classic race kit sunburn he didn't expect at the day's outset…yes, the weather guessers missed the mark on predictions for Saturday, we all forgive you, yours can often be a thankless job.
Despite the rain during the week, not a single rider got their feet wet during the crossing this year, unless they went out of their way to hit the tadpole pool, Oriole Hill's grade hasn't eroded and the scenery was as fantastic as it ever is.
For those at the finish line when the first two bikes raced to the finish line you witnessed one of, if not the closest finishes since the routes' inception.  Winona's Chase Wark finished 2 seconds ahead of Wayzata's Steve Marshall. Congratulations to Neenah, WI's Jennifer Youngwerth who was this year's top female finisher.
Many thanks to the community for welcoming us back, to the downtown businesses who took care of us before during and after the race, a special thanks to Hop n Barrel, Stellar 181, the Pizza Place, Root River Auto, Bus and Diesel, Sunshine Foods, Minnesota Metals, Ody's Country Meats & Catering, the City of Spring Valley, Spring Valley EDA, Fire and Ambulance crews (who gave up their early Saturday morning activities) and County Law Enforcement who show up each year to provide a safe route to the race course. A big thanks to all the businesses that contributed to the best-of-the-best pop-up aid station at Forestville! We all owe a big thanks to Greg and Suzie Brooks, our perpetual hosts at Forestville; if you stopped there, you know how welcomed and comfortable you can get there…it's downright hard to leave.
How about Cherry Grove?  Shout it out for the Community Center caretaker at Cherry Grove for opening up the Center and putting a pot of coffee on and providing a cozy recharge station to help prep us for the final 26-mile grind and last four major climbs of the day. Let's not forget about those mystery race-angels who set out random water and snack stations; for those of us racing, it's akin to someone seeing a mirage in the desert…only our mirages turn out to be real! Whoever you are, we salute you!
While we present ourselves as grassroots and barebones to the core; making the process as simple for the riders as possible, it takes many volunteers and coordination work to pull a race like this off, many thanks to all who keep this Granddaddy of all Gravel Routes alive. See you next year!
Check out some of this year's Race Footage courtesy of the Hugo Gravel Group below!
---
For more information or for questions about the Spring Valley 100 Gravel Race, the route, or about equipment
please contact Paul Vogel at Pvogel3634@aol.com, or call 440-829-2652. 
We'll provide the start and finish lines, the adventure in between is all you!
Registered
Aaron Drevlow – Cottage Grove, MN
Aaron Gamm – Rochester, MN
Adam Boston – Oshkosh, WI
Alan Matson – Burlington, VT
Alan McEwan – Rochester, MN
Alan Swanson – Duluth, MN
Amanda Acklin – La Crosse, WI
Amer Alam – Rochester, MN
Andrew Frechette – Buffalo, MN
Andrew Thiemen – Hopkins, MN
Andrew Worth – Hanover, MN
Angie Hop – Rosemount, MN
Ann McLaughlin – Rosemount, MN
Aron Khoury – Minneapolis, MN
Austin Beals – Rochester, MN
Barbara Quade-Harick – Minneapolis, MN
Barthollomew Presby – Minneapolis, MN
Becky Youngberg- Shakopee, MN
Ben Bastian – Edina, MN
Ben Besch – St. Paul, MN
Ben Swenka – Hudson, WI
Ben Petty – Conrad, IA
Bill Karas – Tucson, AZ
Bill Thorne – Minneapolis, MN
Bob Gates – Platteville, WI
Brad Birkholz – Watertown, WI
Brad Hautala Crystal, MN
Brendan Stancer – Beresford, SD
Brett Koplin – Rochester, MN
Brian Bode – Rosemount, MN
Brian Boehmer, Sauk Rapids, MN
Brian Jankowski – Lino Lakes, MN
Brian Jones – Minneapolis, MN
Brian Link – Fitchburg, WI
Bruce Pagel- Elm Grove, WI
Bruce Rohrich – Maple Grove, MN
Bruce Talen – St. Louis, MO
Bryan Dougherty – Minneapolis, MN
Bryan Loecken – Richfield, MN
Bryan Rash – Lincoln, NE
Cameron Moore – Loveland, CO
Cameron DaCosta – Minneapolis, MN
Carl Gammon – Monticello, MN
Carrie Swiggum – Minneapolis, MN
Carlie Lamke – Minneapolis, MN
Carolyn Franzone – Rochester, MN
Charly Tri – Rochester, MN
Chase Wark – Winona, MN
Chris Hammerstrand – Edina, MN
Cindy Argue – Minneapolis, MN
Cody Schweinefus – Decorah, IA
Collin White – Decorah, IA
Connor Gunsbury – Minneapolis, MN
Cory Hoffman – Robbinsdale, MN
Craig Curtis – Appleton, WI
Dale Cira – Port Washington, WI
Dale Grosenick – Watertown, WI
Dale Johnson – Lancaster, IA
Dan Theis – Arcadia, WI
Daniel Eckerson – Minneapolis, MN
Danielle Randolph – Richfield, MN
Danette Kimball – Hermantown, MN
Danny Storm – Brooklyn Park, MN
Dave B. – St. Paul, MN
Dave Gammill – Tonka Bay, MN
David Clausen – Arden Hills, MN
David Hein – Lake Elmo, MN
David Hill – Madison, WI
David Sieberg – North Mankato, MN
David Shulman – Minneapolis, MN
David Toews – Roseville, MN
Deanne Hart – Virginia, MN
Deb Herbert – White Bear Lake, MN
Dennis Theis – Brooklyn Park, MN
Denise Lackey – Madison, WI
Don Griggs – Baxter, MN
Don Karras – Sioux Falls, SD
Doug Wynveen – Osceola, WI
Ed Shaw – Brainerd, MN
Ellen Pflaster – Edina, MN
Emily Flynn – Cazenovia, NY
Eric Cleveland – Rochester, MN
Eric Froelich – Minneapolis, MN
Eric Nacey – Saint Cloud, MN
Eric Schluttner – Kasson, MN
Erik Nelson – North St. Paul, MN
Erik Borgnes – Stevens Point, WI
Erin Kelly – Watertown, WI
Franz Rinkleff – Rochester, MN
Franziska Rinkleff – Rochester, MN
Gary Brown – Waukon, IA
Gene Schaffer – Sioux Falls, SD
Geoff Gray – Hugo, MN
Geoffery Paquette – St. Paul, MN
Gigi DiGiacomo – Minnetonka, MN
Greg Bernhardt – Hopkins, MN
Greg Burnes – Stillwater, MN
Greg Fields – Golden Valley, MN
Greg Padley – Burnsville, MN
Griffin Nelson – Minneapolis, MN
Gritty Goose – Ironton, MN
Hector Cerra – Rochester, MN
Henry Walker – Rochester, MN
Ian Olsen – Rochester, MN
Isaac Henneberg – Circle Pines, MN
Jackson Pettes – Savage, MN
Jason Laughlin – Des Moines, IA
Jason Partridge – Minneapolis, MN
Jason Thorp – Plymouth, MN
James Goblirsch – Winona, MN
James Hillis – Galena, IL
Jan Swanson – Duluth, MN
Jan Hagenbrock – Rochester, MN
Jay Burt – Omaha, NE
Jay Swenson – Victoria, MN
Jeff Hagen – Lino Lakes, MN
Jeff Linde – Apple Valley, MN
Jeff Johnson – Shakopee, MN
Jeff Pettes – Savage, MN
Jeff Rierson – Cedar Rapids, IA
Jen Fleming – St. Paul, MN
Jen Hoifeldt – Minneapolis, MN
Jenna Pettes – Savage, MN
Jennifer Youngwerth – Neenah, WI
Jeremy Staff – Houston, MN
Jessa Marzean – Montrose, MN
Joe Moyer- Rochester, MN
Joe Wirth – Minneapolis, MN
Joel Banks – Plover, WI
Joel Lokken – Brooklyn Park, MN
John Hoch – Minneapolis, MN
John Jarvis – Eden Prairie, MN
Jon Joseph – Madison, WI
John Hausladen – Mankato, MN
John Kelly – Chatfield, MN
John Klem – Menomonie, WI
John McConaghay – Minneapolis, MN
John Zajda – Westfield, WI
Jon Wiebe – Minneapolis, MN
Jonas Nygard – Minneapolis, MN
Jordan Blakeslee – St. Paul, MN
Jordan Miller – Rochester, MN
Josh Spilde – Decorah, IA
Joy Leighton, Readstown, WI
JP Ericsson – La Crosse, WI
Justin McGuire – Minneapolis, MN
Kayla Dietzenbach – Rochester, MN
Kelvin O'Shaughnessy – Rochester, MN
Ken Sparling – Minneapolis, MN
Kenneth Leeson – Cottage Grove, MN
Kevin Cray – Rochester, MN
Kevin Greimel – Richfield, MN
Kevin O'Shaughnessy – Rochester, MN
Kevin Wallenberg – Apple Valley, MN
Kim Neitzel – Verona, WI
Kirk King – Minnetonka, MN
Kristin Markert – Minneapolis, MN
Kyle Johnson – Stillwater, MN
Kurt Njos – Chatfield MN
Kyle Bergemann- Ankeny, IA
Kyle Blakeslee – Beresford, SD
Kyle Schlink – Chatfield, MN
Larry Buller – Mankato, MN
Larry Link – Eden Prairie, MN
Lance Schroth – Appleton, WI
Landon Beachy – Kalona, IA
Laura Cremonesi – Chicago, IL
Leo Haefemeyer – Minneapolis, MN
Leo Rincon – Minneapolis, MN
Lila Planavsky -La Crescent, WI
Lisa Mormann – Dyersville, IA
Lucas Mace – Minneapolis, MN
Lucas Carlstrom – Rochester, MN
Lucy Gray – Hugo, MN
Luke Grohovsky – Minneapolis,
Luke Schaan – Tonka Bay, MN
Marcus Westerman – Lino Lakes, MN
Margaret Turvey – Minneapolis, MN
Mark Erickson – Osceola, WI
Mark Holtan – Mendota Heights, MN
Mark Nestande – Victoria, MN
Mat Boie – Plymouth, MN
Matt Ostbloom – Waterloo, IA
Matt Peterson – Arden Hills, MN
Matthew Gryniewski – Blaine, MN
Matthew Guotwski – Minneapolis, MN
Matthew Korsmo – Plymouth, MN
Megan Mouser – Lino Lakes, MN
Michael Kirwin – Duluth, MN
Michael Colaizy – Dresser, WI
Michael Pierquet – Edina, MN
Michael Pivec – Minneapolis, MN
Michele Ericsson – LaCrosse, WI
Michelle Augustin – Apple Valley, MN
Mike Blakelsee – Cannon Falls, MN
Nicholas Vogenthaler – St. Paul, MN
Niel Smarjesse – Saint Louis Park, MN
Paul Keller- Rosemount, MN
Paul Markert, Minneapolis, MN
Paul Petersen – Minneapolis, MN
Paul Peterson – Forest Lake, MN
Paul Roltgen – Cottage Grove, WI
Paul Vogel – Rocky River, OH
Paula Volk – Andover, MN
Peter Cragoe – Minneapolis, MN
Peter Betz – Rochester, MN
Peter Maxwell – Minneapolis, MN
Peter Pascale – Edina, MN
Pete Seng – Edina, MN
Phil Esminger – Minneapolis, MN
Phil Higley – Spring Lake Park, MN
Prasanna Suryadevar – Plymouth, MN
Randy Bell – Minneapolis, MN
Randy Brendal- Owatonna, MN
Randy Lewandowski – Minneapolis, MN
Raven Dewitt – Minneapolis, MN
Rene deDon – Hopkins, MN
Richard Franco – St. Paul, MN
Richard Peet – Golden Valley, MN
Richard Steinle – Madison, WI
Rick Curtis – Rochester, MN
Rincon Leo – Minneapolis, MN
Rob Douglass – Hopkins, MN
Robert Greenwood – Stevens Point, WI
Rob Mark – Minnetonka, MN
Robin Raplinger – Virginia, MN
Robin Schwartz – Minneapolis, MN
Rocky DiGiacomo – Minnetonka, MN
Rodney Johnson – Minneapolis, MN
Ron Bero – Delafield, WI
Russell Hill – Waconia, MN
Ryan Archibald – Saint Paul, MN
Ryan Foley – Dubuque, IA
Ryan Prosser – Plymouth, MN
Ryan Smith – Rochester, MN
Ryan Terpening – Bloomington, MN
Sandy Marshall – Wayzata, MN
Scott deVillers – Chaska, MN
Scott Klein – Northfield, MN
Scott Nagel – Fairmont, MN
Slater Crosby – Edina, MN
Stefan Turner – St. Paul, MN
Steve Hamilton – North Liberty, IA
Steve Marshall – Wayzata, MN
Steve Pottinger – Eagle Lake, MN
Steve McKey – Middleton, WI
Steven Kenny – St. Louis Park, MN
Stephen DeLong – Minneapolis, MN
Stuart Benson – Mahtomedi, MN
Ted Carter – Apple Valley, MN
Theo Halvorson – Minneapolis, MN
Thomas Cook – Minneapolis, MN
Tim Jennings – Wisconsin Rapids, WI
Tina Friday – Mason City, IA
Todd Borchert – New Brighton, MN
Todd Elkerton – Blaine, MN
Todd Hein – Wabasha, MN
Todd Keune – Cresco, IA
Tom Murphy – Owings, MD
Travis Van Neste – Minneapolis, MN
Tricia Brown – Iowa City, IA
Warren Peltier – Lino Lake, MN
Wendy Auldrich – Minneapolis, MN
Will Herbon – Minneapolis, MN
Zach Anderson – Minneapolis, MN
Zach Brooks – Mankato, MN
Zack Flash – Colorado Springs, CO