2021 Spring Valley 100 Gravel Bike Race

The Spring Valley 100 Gravel Bike Race returns to Spring Valley June 5th
The Spring Valley 100 Gravel Race is a free to public, self-supported gravel road race,
through the beautiful rolling hills of southeastern Minnesota.
The event starts in downtown Spring Valley at 8:00 a.m.
Registration
All participants in the Spring Valley 100 must register for the event,
and submit an Event Release/Waiver of Liability.
Registration option and bib pickup:
The 2021 Spring Valley 100 Route map and Cue sheets are now available on RideWithGps.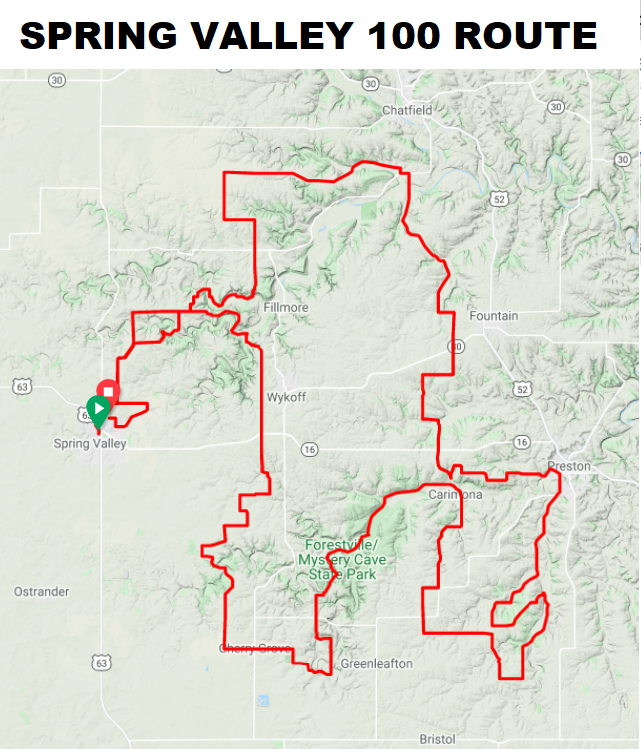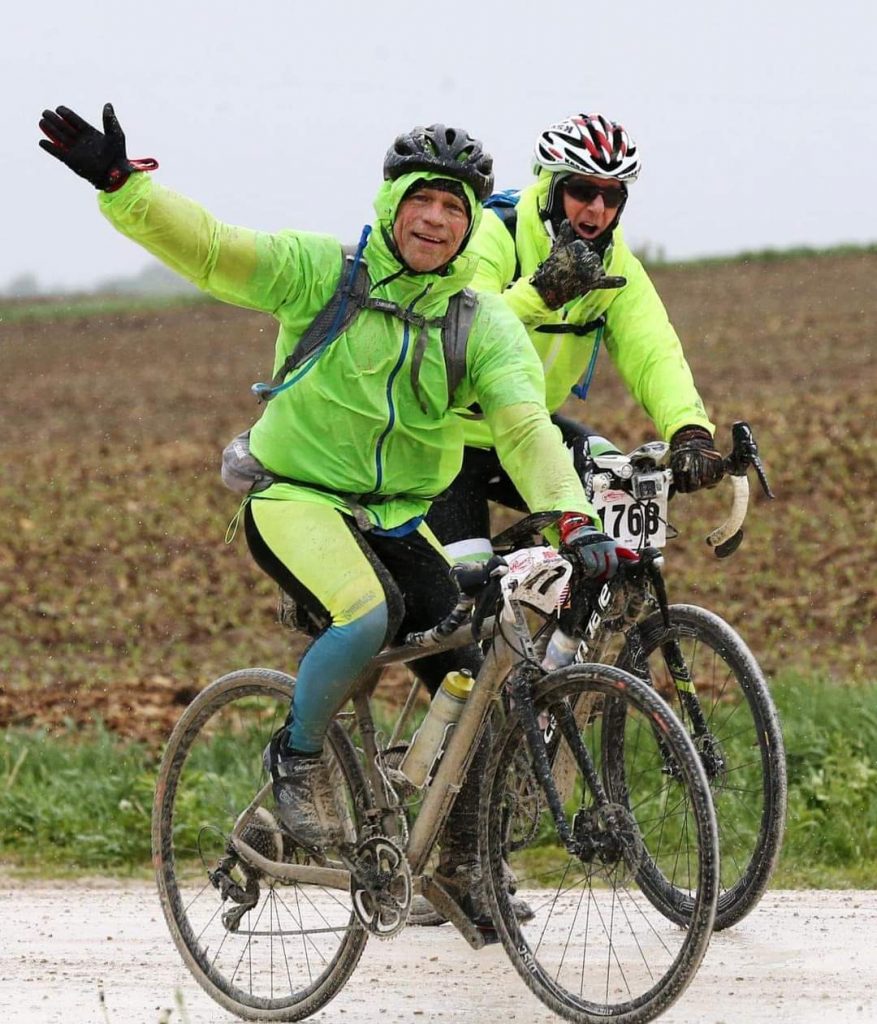 Information
For information on where to eat and enjoy Spring Valley while you are here, check out our local businesses.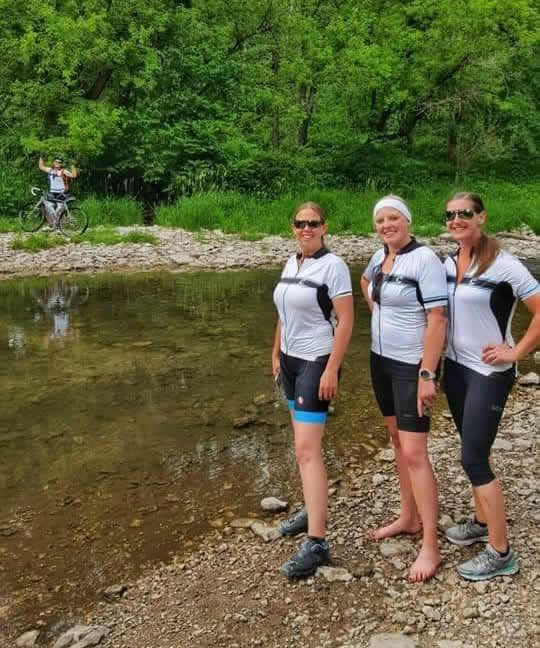 ---
Race Reports
---
For more information or for questions about the Spring Valley 100 Gravel Race, the route, or about equipment
please contact Paul Vogel at Pvogel3634@aol.com, or call 440-829-2652.
We'll provide the start and finish lines, the adventure in between is all you!
Registered
Aaron – Burnsville MN
Adam – Minneapolis MN
Alan – Bloomington MN
Alan – Burlington VT
Alison – Minneapolis MN
Allison – Chicago IL
Andrea – Duluth MN
Andrew – Brecksville OH
Anthony – Minneapolis MN
Ashley – Nashville TN
Avery – Minneapolis MN
Ben – Cannon Falls MN
Bill – Rochester MN
Blake – West St. Paul MN
Bob – Eagan MN
Bob – Plymouth MN
Branden – Eau Claire WI
Brandon – Minneapolis MN
Brendan – Beresford SD
Brent – Brainerd MN
Brian – Sauk Rapids MN
Cale – Minneapolis MN
Caleb – Prior Lake MN
Carol – Minneapolis MN
Charles – Minneapolis MN
Chris – Hopkins MN
Chris – Lakeville MN
Chris – St. Charles MN
Christopher – Minneapolis MN
Cole – Sioux Falls SD
Corey – Watertown MN
Cory – Ironton MN
Courtney – Evanston IL
Craig – Minneapolis MN
Dan – Rochester MN
Dan – Rochester MN
Danette – Hermantown MN
Danette – Duluth MN
Daniel – Minneapolis MN
Darrin – Lime Springs IA
Dave – Clear Lake IA
David – Roseville MN
David – St. Paul MN
David – Waukon IA
Dennis – Brooklyn Park MN
Ed – Brainerd MN
Eric – Rochester MN
Eric – Rochester MN
Gabriel – Apple Valley MN
Gabrielle – Minneapolis MN
Gary – Waukon IA
George – Rocky River OH
Greg – Burnsville MN
Gregory – Green Bay WI
Hector – Rochester MN
Jan – Rochester MN
Jared – Minnetonka MN
Jen – St. Paul, MN
Jim – Rochester MN
Jim – Eyota MN
Joleen – Houlton WI
Justin – Rochester MN
John – Rochester MN
Jordan – Cannon Falls MN
Jordan – Rochester MN
Joseph – Minneapolis MN
Justin – Anoka MN
Justin – Evanston IL
Keith – Andover MN
Kevin – Coralville IA
Kurt – Chatfield MN
Kurtis – Lakeville MN
Kyle – Beresford SD
Lai – Sartell MN
Len – Eden Prairie MN
Leo – Minneapolis MN
Lindsay – Golden Valley MN
Lindsay – Stewartville MN
Marc – Stewartville MN
Marcus – Rochester MN
Mario – Rochester MN
Mark – Iowa City IA
Mark – Rochester MN
Matt – Maple Grove MN
Matt – Minneapolis MN
Matt – Nashville TN
Matt – Richfield MN
Matthew – Blaine MN
Matthew – Minneapolis MN
Matthew – Volga IA
Michael – Minneapolis MN
Michael – Minneapolis MN
Michael – Cannon Falls MN
Michael – Rochester MN
Michael – Sioux Falls SD
Michael – Woodbury MN
Mike – Duluth, MN
Mike – Iowa City IA
Mike – Savage MN
Mitch – Hartland MN
Nate – Two Harbors MN
Nicholas – Minneapolis MN
Paul – Excelsior MN
Paul – Forest Lake MN
Paul – Minneapolis MN
Paul – Plymouth MN
Paul – Rosemount MN
Paul – Rocky River OH
Pete – Rochester MN
Phil – Minneapolis MN
Phillip – Mankato MN
Randy – Cedar Rapids IA
Randy – Minneapolis MN
Reed – Hudson WI
Richard – Saint Paul MN
Samuel – Minneapolis MN
Scott – Fairmont MN
Scott – Madison Heights MN
Scott – Madison Heights MI
Scott – Northfield MN
Scott – St. Paul MN
Sean – Minneapolis MN
Sean – Minneapolis MN
Seth – Colorado Springs CO
Shane – Canton MN
Steve – Maple Grove MN
Steve – Mason City IA
Tim – Minneapolis MN
Timothy – Savage MN
Thomas – Minneapolis MN
Todd – Cresco IA
Tony – Mason City IA
Travis – Cresco IA
Trisha – St. Paul MN
Valerie – Minneapolis MN
Wes – North Liberty IA
Zach – Colorado Springs CO
List updated May 28, 2021