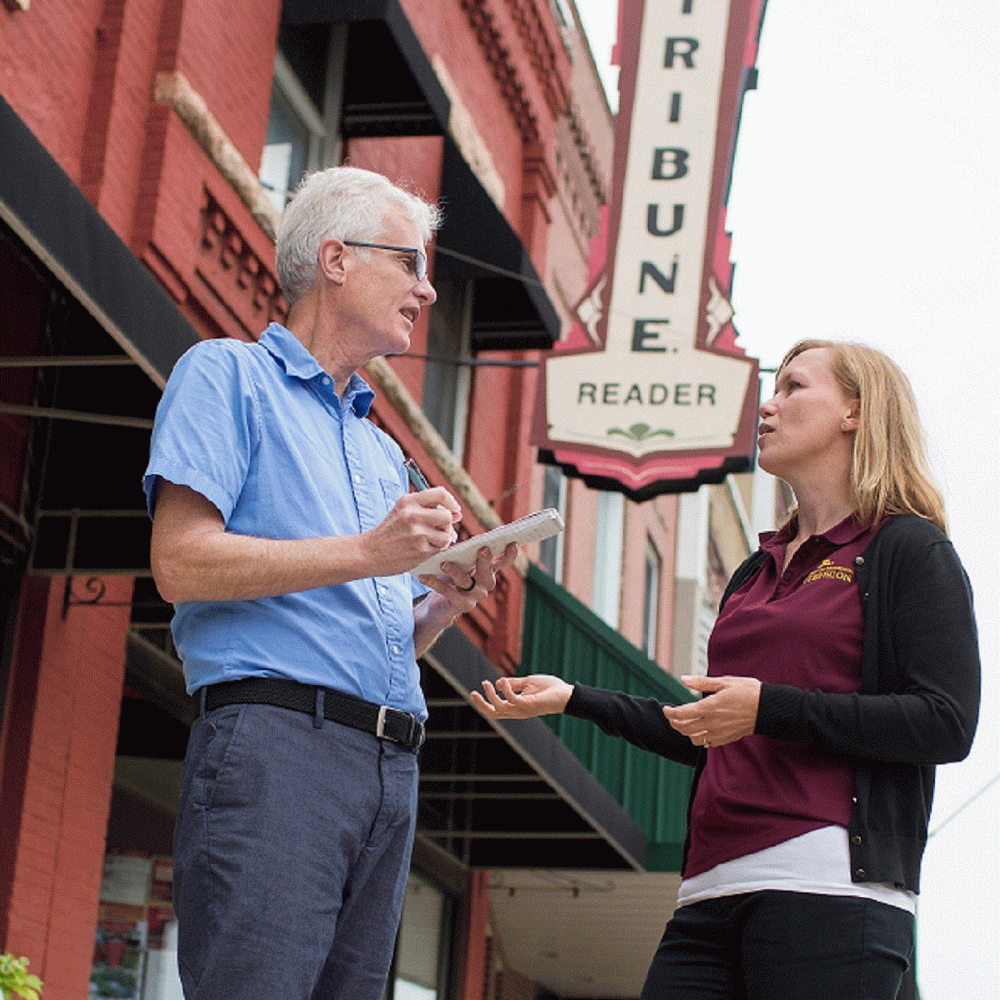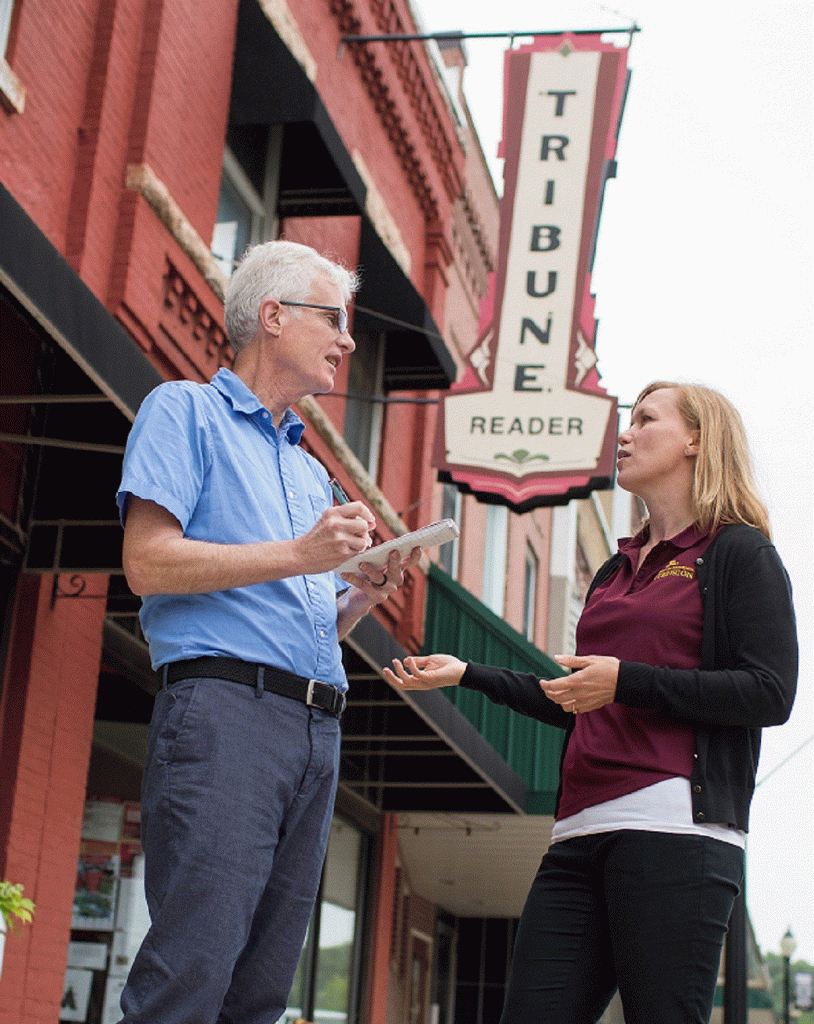 David Phillips has been selected as the 2021 Spring Valley Citizen of the Year by the local Kiwanis club.  A community open house will be held Sunday, Oct. 24, in the Spring Valley Community Center. The event will have a reception at 1 p.m. followed by a program at 1:30 p.m.
Phillips was a long-time editor and publisher of the Spring Valley Tribune until he retired in the spring of 2020. He practiced a community-focused journalism that highlighted local people and activities.  He moved to Spring Valley to join the family business with his wife, Pam, in 1981 soon after the birth of their first child. He served as reporter, then news editor and eventually editor and publisher when his father died in 1988.
Phillips became active in community organizations, starting in 1988 when he joined the Spring Valley Kiwanis Club. He served as president in 2003-04 and is currently a board member of the group.  He was also involved in many economic development groups, including the former Star City organization and was an original member of the Spring Valley Economic Development Authority when Mayor Rick Ascheman appointed him in 1991. He has remained on the EDA for 30 years, serving as president at various times. He was a long-time member of the Spring Valley Chamber of Commerce, serving as president for many years. The Chamber awarded him an Outstanding Community Service Award In 2019.
Phillips is also involved in several charitable organizations. He has been on the United Fund board for at least a couple of decades, serving as vice president for many years and now as treasurer. He was a founding member of the Spring Valley Community Area Foundation, serving on the first board of directors. He served two terms, went off the board and is now back on, taking on the role of secretary this year.
The son of a World War II veteran, he has been involved in several veterans' activities, co-sponsoring political candidate forums with the VFW, serving on the veterans' home committee, publishing a Loyalty Day guide and covering many activities for the newspaper. He received the Minnesota VFW Ed A. Callahan News Media Award in 2000 for "exceptional reporting, covering and publishing of Americanism and veteran-related issues." His newspaper also received a First District VFW Loyalty Day Award for promoting the Spring Valley Loyalty Day event in 2006.
A long-time member of Vision 21, a networking group that meets weekly, he at one time served as the unofficial communicator, sending out email notices weekly for several years.  He served on the board of Southeastern Minnesota Historic Bluff Country for several years and attended the week-long Blandin Editors and Publishers Leadership Program for newspapers to develop community leadership skills and vision.  He participated in many community initiatives, including a diversity council, Making it Home, Rural Entrepreneurial Ventures (REV) and others. His newspaper was recognized with awards from Brave Community Theatre, the U.S. Postal Service, the Food Share program of Wykoff, the Fillmore County Cattlemen's Association, 4-H and other groups for outstanding community coverage over the years.
He was involved in several school activities, including chaperoning several activities, such as a band trip to Florida, field trips, a post-prom overnight event and a class trip to the Capitol. The Tribune received a Friend of Education Award in 1995 from the Kingsland Education Association. Phillips was named an honorary chapter farmer by the local FFA chapter and his newspaper was presented with a certificate of appreciation for promoting National FFA Week plus a general media award from FFA.
An avid runner, he gave up participating in the annual Ag Days adult race and took over as race director to make sure the event continued during the annual community celebration. Later, he originated the Frozen Feet 4k fun run during Christmas on Historic Broadway. He also served on the Rochester Track Club, now Rochester Running Club, board for many years, taking on the role of president for several years.
Phillips was most visible in the community in his role with the newspaper, which extensively covered community people and events. He was often seen with a camera hanging around his neck as he enjoyed getting out to photograph activities in the community in addition to sitting at a desk to write.  He said he was fortunate to have a quality and loyal staff to carry through the newspaper's mission of serving the community. "Doing a good job covering the community was the top priority of mine," said Phillips. "My only regret is the way it ended as my original succession plan fell through and, with a competitor for advertising in the same market, I couldn't find an experienced person or company to continue operation of the local newspaper. After considering the looming hardships of operating a business at my age in a pandemic, I made a somewhat sudden decision to retire, which came during a chaotic and isolating time."
Phillips said he hopes long-time readers will show up for the open house as he never had the opportunity to say farewell due to the lack of public activity during his final days as publisher.  Residents can also help the community's youngest citizens with a donation made in his honor to support the Kiwanis scholarship fund. Kiwanis funds a Citizen of the Year Scholarship given each year to a graduating Kingsland High School senior. Donations may be made at the open house or mailed to: Kiwanis Club of Spring Valley, P.O. Box 133, Spring Valley, MN 55975.