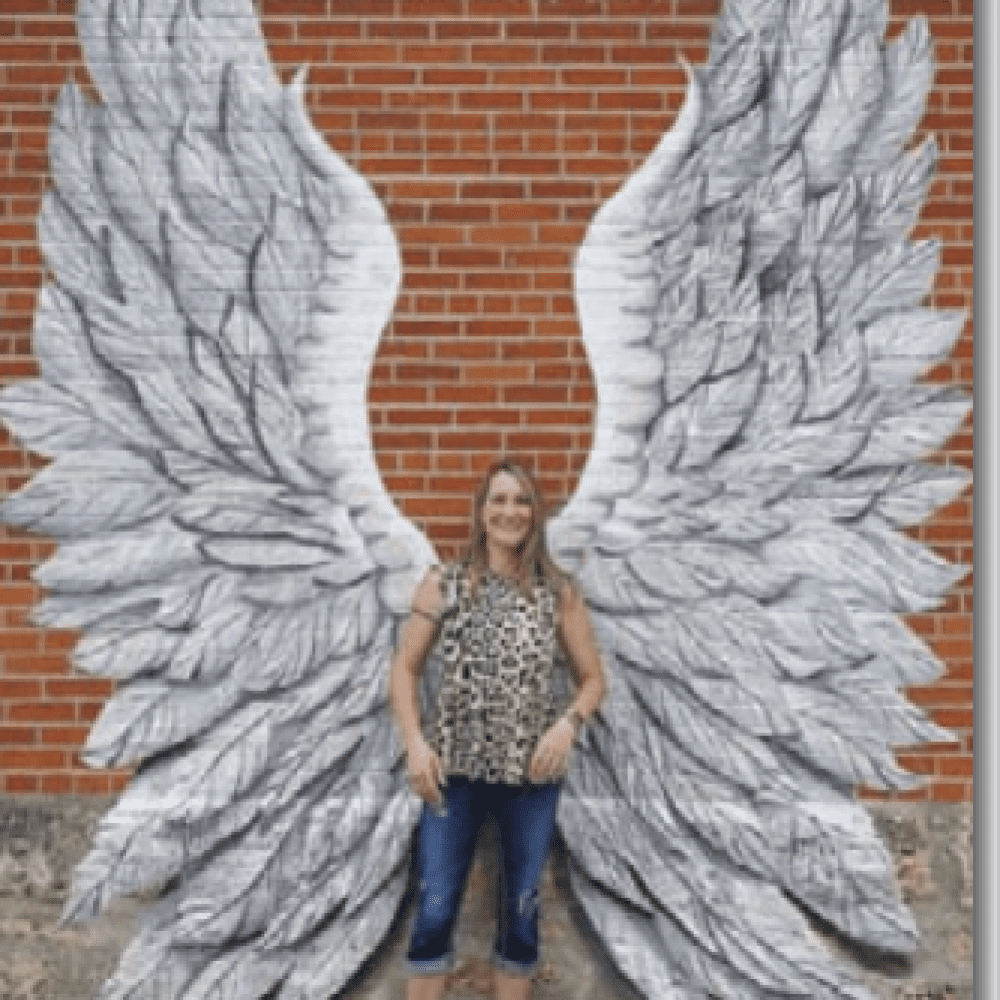 Original article published in the Mower County Independent, Thursday, September 22, 2022.   Reprinted with permission and gratitude.
By Gretchen Mensink Lovejoy 
The whisper of wings on a brick wall…speaking a million volumes.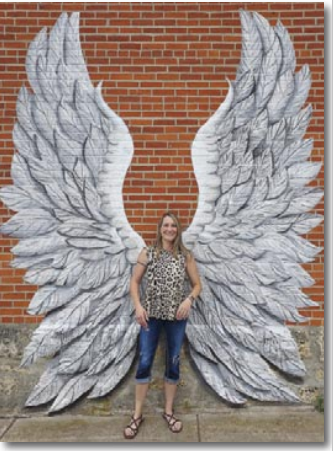 "The angel wings spoke to me because of what they stood for. They were initially painted as a reminder to humanity that we are the angels of this earth. I fell in love with the idea that people travel all over the world to see the different murals, and I thought it was a great way to put Spring Valley on the map, as well as utilizing it as a tool to jump-start a stronger art connection in our town," said Spring Valley Business Alliance (SVBA) member Jenn Slifka, remarking on the wide set of wings recently painted on the north side of Hop & Barrel in downtown Spring Valley by local mural artist Andrea Hindt, a span that will likely be posted to Facebook, Instagram, Twitter and Tiktok as it captivates the attention of passersby who stop for a photograph of the moment in which they are living.
Slifka explained that the just feathered brick has an intended mission. "The angel wing mural is a project of the Spring Valley Business Alliance, known as the 'SVBA Angel Wing Project.' SVBA is a newly formed group of entrepreneurs that are working together to bring new projects, ideas and concepts to achieve growth in our community through additional tourism, as well as building a stronger town pride and 'shop local' feel amongst our local residents. Our mission is to bring business owners together to support a stronger business community and a stronger town. The SVBA Angel Wing Project is a fundraiser to kickstart our group, and people can purchase a feather on the mural which can be dedicated to a person, a business, a family name or anything that speaks 'Spring Valley' and our community. The vision was that from far away, you can see a gorgeous mural of angel wings, but once you get up close, you can see all of the names of families, businesses and organizations who have donated to be a part of our town's story."
She recounted that she'd suggested the project during a charter SVBA meeting because the membership was seeking direction and an effort on which to collaborate.
"I had initially seen pictures of the Global Angel Wing Project out in Los Angeles, and the artist, Collette Miller, has also painted them in different locations all over the world. There is a set in Nashville which has probably brought the most attention to the concept."
Artist Hindt has already shown her talent throughout downtown Spring Valley, as she originally painted several murals on the west side of Slifka's business buildings to uplift their aging presentations. Slifka pointed out, "I have been talking with Andrea for quite a few years about angel wings. We just needed a place where they were a perfect fit. We joke that Andrea is our in-house artist because every idea we come up with, she is on top of it instantly. She is very passionate about what she does, and it shows in her work. This is the ninth project she has done for us—if not more—and we will always find more ideas for her to bring to life."
California transplant Slifka, who is a Kingsland High School alum and proprietor and co-proprietor of Spring Valley's "mini-mall" of businesses, including Chateau de Chic Salon, the Chic by Chateau clothing store and Stellar 181 Taphouse, is proud to watch her longtime adopted hometown garner attention as the formerly empty storefronts fill up with revived commerce, and from that has arisen the SVBA and downtown events and improvements such as monthly Wednesdays on Broadway evenings of entertainment and shopping along the two blocks of Broadway just off Highways 16 and 63 and the installation of paintings and other works of art.
"Wednesdays on Broadway is blanketed under the Spring Valley Business Alliance. Our group is new and growing, but we have so much passion in our group that you will be seeing a lot more of our ideas coming to life very soon. I think Wednesdays on Broadway has strongly shown how amazing of a community we really are." She continued, "The mural is right at the top of our historic downtown, and it is a draw and a reason for people to stop, get out and check out our downtown area. I absolutely love coming downtown and seeing people posing in front of it, seeing people's pictures on social media. People's first response is 'Where are you? Where is that?' and the reply is 'Spring Valley, Minnesota.' Our hashtag for social media is #SVBAAngelWingProject. People can also tag Spring Valley, MN."
The wispy white mural was produced through the generosity of private funding. "For people who are interested, it is a $50 donation to the business alliance, and we can dedicate a feather and have it painted with whatever you would like. The mural itself was commissioned and paid for privately, so 100% of the proceeds of the SVBA Angel Wing Project goes toward future projects of the SVBA. As I said before, it could be a person, a family name, a business name, organization, or even something of our town history that helps paint a picture of Spring Valley. Anyone interested can get in contact with me."
She added, "I think it would be amazing to see a huge response in people who want to be a part of putting their names on the mural. I think that, in itself, will be proof of how strong our community is, to rally behind something that is timeless. And then they can be a part of the story that is told every time someone takes their picture in front of it. The angel wings are just the start of the full mural, so you will see a lot happening on that wall to build upon what Andrea has started. The wings were just the beginning."
The SVBA Angel Wing Project is an alighting point for the organization's fundraising and community endeavors. "We have lots of ideas we want to see come to life. We have a growing group of excited and creative entrepreneurs who have great ideas and visions for our town. For so long, the outlying small towns around Rochester have been labeled 'bedroom communities,' and we are more than that. We have a lot of great things here to be proud of. I think the more we do things like this, we are setting ourselves up to be a destination, not just a small town along the highway."
Slifka feels that a strong breeze is coming with Spring Valley's new wings and with its business alliance. "I have always said that business owners are movers and shakers, free-thinking and creative planners. I think we need to step up and bring our assets to the table—whatever they may be—and support the community that supports us. Spring Valley is an amazing little town full of amazing people, and we want to bring everyone together to show how great we really are."
For more information on how to donate, contact Jenn Slifka at 507-272-3005
Courtesy of the Mower County Independent, 135 E Main St. LeRoy, MN 55951, (507)-324-5325