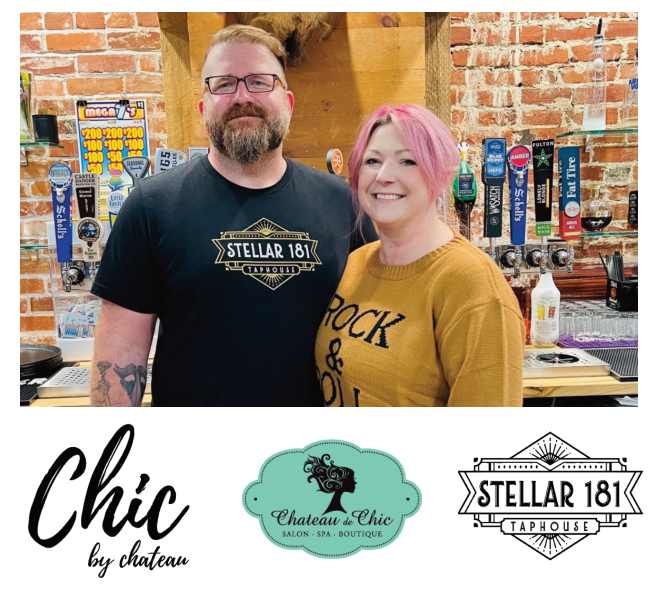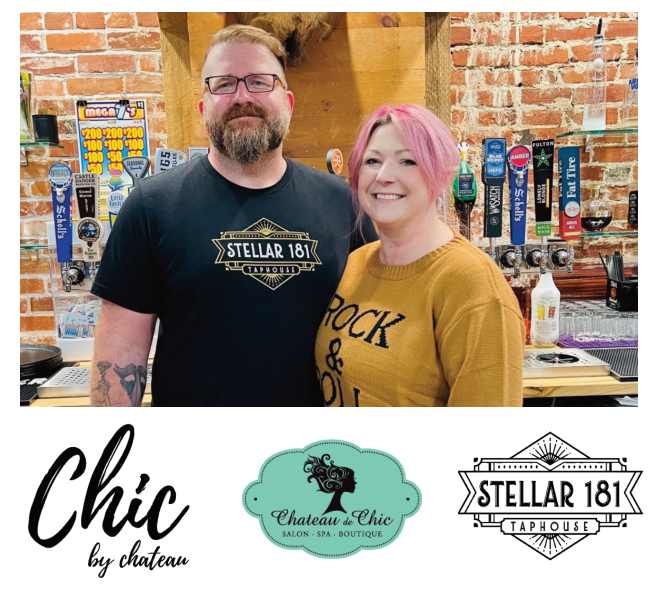 Rochester Area Economic Development Inc, (RAEDI) celebrated its 2022 R.A.V.E. (Recognizing Awarding Valuing Entrepreneurs) awards, November 16th in Rochester MN.  Among the honorees were Spring Valley entrepreneurs, Jenn and Alex Slifka, owners of Stellar 181 Taphouse, Chateau De Chic and Chic by Chateau.
The following biography, photo, and video are courtesy of Rochester Area Economic Development Inc. and used with permission.
Jenn Slifka knew exactly what she wanted to do after high school. Two days after her graduation in 2002, she started beauty school and by 2006, she owned Chateau de Chic Salon & Spa in downtown Spring Valley. At the time, Alex had his own construction business and Jenn contracted with him to remodel her salon. Soon he was getting his hair cut there regularly and by 2008, the two were married.
In 2018, they purchased the two buildings next to the salon, and added a boutique, Chic by Chateau, which carries fashionable clothing, décor, and accessories. The boutique was a great pairing with Chateau de Chic Salon & Spa. Jenn's mom, Suzanne, opened Some Like It Hot, in the second building, and shares her years of experience in the catering business offering high quality desserts, coffees, and cakes.
In 2019, they purchased the building just north of Some Like It Hot. After remodeling it, the Slifka's opened Stellar 181Taphousein mid 2021. Alex still runs his construction company, which does property management out of Rochester, commercial remodeling, and custom wood working. This is his passion and he brought that into play in the Stellar building with all the woodwork in there.
 Between their three businesses, and Jenn's mom's business, they employ 38 people in Spring Valley. All four are connected via the original, late 1800's walk-through doorways. "It really provides an inviting and unique experience," says Chris Hahn, EDA Director for Spring Valley. "Once you enter, you can get your hair done, shop for clothes and gifts, grab a coffee and a sweet treat, or pull up a seat at the bar for a meal and local craft beer, all without walking back out the door."
 Congratulations to Jenn and Alex!
Other Honorees included: 
2022 R.A.V.E. Honoree, Nanodropper
2022 R.A.V.E.  Honoree, Pasquale Presa of Pasquale's Neighborhood Pizzeria
2022 R.A.V.E. Lifetime Achievement Honoree, Deutsch Family, owners of Pace International.
2022 R.A.V.E. (Recognizing Awarding Valuing Entrepreneurs) Warrior Honoree, Christine Beech