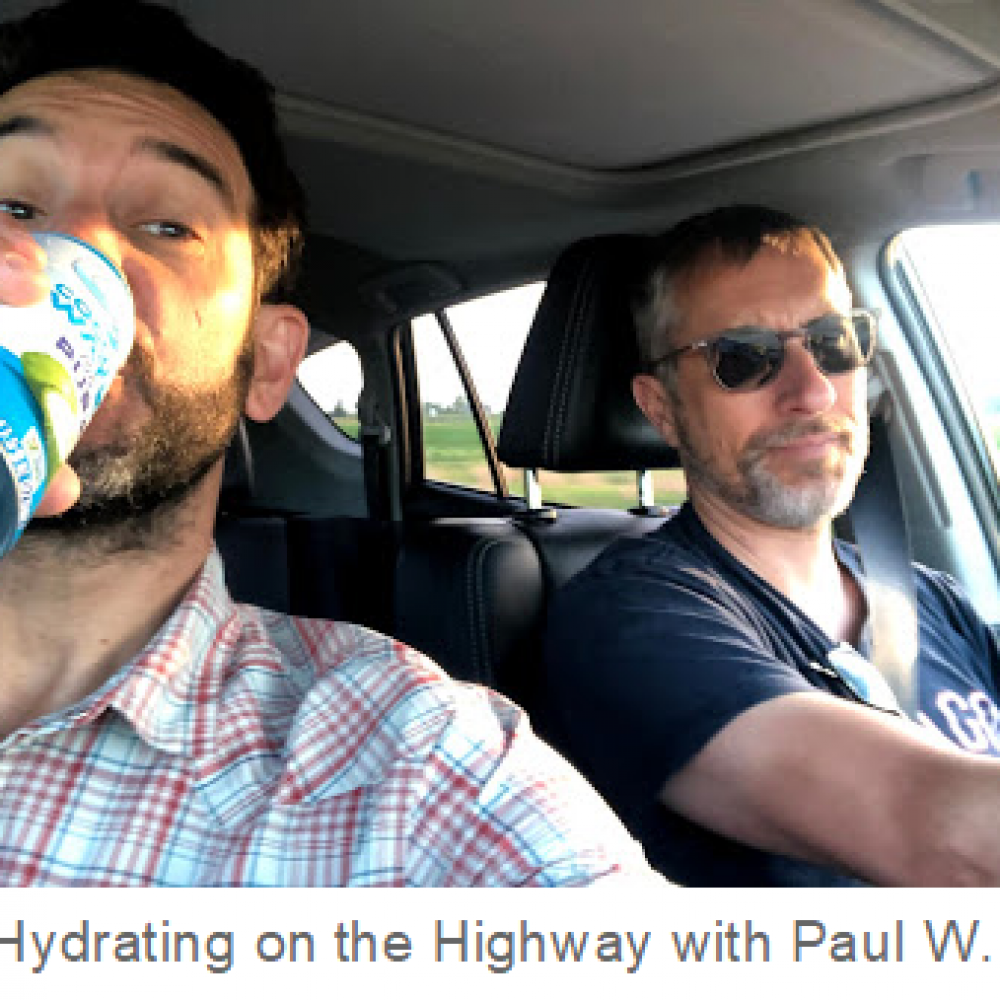 This story and photos are reprinted with permission from the Gravel News Network.  The race organizers and the City of Spring Valley EDA would also like to thank our community volunteers, and the following sponsors:  VFW Post 4114,  Lupulin Brewing,  Sunshine Foods, TJs Liquor, Valley Butchery and Meat Market, Ody's Country Meats and Catering, Root River Auto, Bus and Diesel.  
Spring Valley 100 Gravel Bike Race / Almanzo 100 — Meteor Theory v. Heat Wave, Gravel v. Skin
Quick Background on Almanzo (and Meteor Theory)
The Almanzo 100 was one of the first gravel events in the midwest to be attracting 1,000+ people. I did this event for several years in all sorts of weather (some race reports here in The Gravel News Network).
This year, the city of Spring Valley took the lead on the event, renaming it the Spring Valley 100. The date of the event, normally the first Saturday after Mother's Day (in May) meant the weather had varied from the 30s to the 80s, cold rain to hot sun, mostly wind and sometimes calm. This year was in June, yesterday, June 5th, and temps were in the 90s with winds gusting up to 25mph.
Perhaps it's also useful to briefly share the "Meteor Theory" that I apply in pretty much every event. It is a plan to go out hot, hotter than what can be sustained, and then slowly peel back — like the edges of a meteor burning off as it enters the Earth's atmosphere. Decreasing speed, increasing suffering the whole way and hoping that the body only turns to ash as the finish line comes into sight. Sometimes the ashes end up on the side of the road, maybe sleeping. Most times it sorta works. Every time it hurts.
Where Is everybody?
Leaving Minneapolis around 5:00a, we hit Highway 52 southward toward Rochester, loosely saluting to other cars with gravel bikes on their racks. The start time, usually 9:00a, was moved to 8:00a so our ritual breakfast of silliness and chuckles was not an option this year. It was straight to the start line today.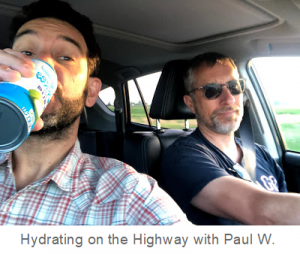 We rolled into Spring Valley like so many years before, but we were able to park right there on Broadway Ave. Something was different. Whereas in the past there were swarms of riders streaming in and out of the Community Center with their numbers, folks pulling bikes out of trucks, and bikes leaning up against brick walls, storefronts, and pop machines … there were maybe 8 cars and there was no line to get race number. Where were all the riders?
Hot AF
The weather forecast was for low 90s and high winds. Definitely a tough day to be on a bike for 6-10hrs.  I think I heard later that 350 had registered and 150 had shown up for the event.
Crazy hot weather, transition year, new name (third name in 3 years), etc.. I am certain this event will grow back to size in the next couple of years. There's hardly a better gravel route to be found — natural beauty, grinding open spaces, epic climbs including the soul-breaking Oriole Road at mile 91. It's a spring gravel classic, so you can expect that the weather is rarely a friend. That's what spring racing is about.
You prepare in fear. Fear of not having the legs, fear of the conditions. And on the day, you show up and you get it done.
Charged Up
We got ourselves situated in the grassy parking lot near the park where the finish line is. This is habit. It's actually an overflow parking area in normal years.
I was feeling pretty charged up. Walking in circles just shouting stuff out randomly. Saying stupid shit about tire inflation levels being at precisely 38.7 (probably a bit too high) and other nonsense.
A big piece of the excitement is that the Almanzo was last ridden in Spring Valley in May of 2018 (report here). The conditions that day were ideal and I had pulled off a PR of about 6:18(?) for the 100 miles — and, as per usual, I was pretty well destroyed at the finish. It was electrifying to be back in that grassy lot with everyone prepping their stuff and nervously bantering.
There was a lot of CRo-designed kits from the Day Across Minnesota (DAMn) and the Filthy 50 amongst the group, and CRo himself was in DAMn attire and featuring his special mystery elixir.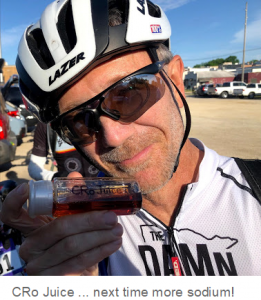 On Broadway
We rolled over to Broadway Ave for the start. Looked around to see where everyone was, but this was it. The clock was counting down to the start and was at 4:52 to go. It was a really small group. We snapped a pic of our crew.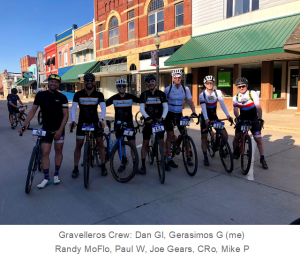 As we lined up and I noticed the thinness of the pack, I realized that I might have a problem. I have, over several years, been quite loose in my navigational planning. I am often around plenty of other riders, there are usually such obvious tire tracks in the road, and I also (foolishly) believe that I know some of the turns (when in fact, so many of them just happen to look really similar to each other).
I eyed some Midtown riders near the front, maybe four of them. I know they have several highly competitive riders there — the kind that will do the 100 miles in under 5hrs. I didn't think this was that group, however, and I know they are friendly folks, so I was thinking I would work toward the front to be near them on the assumption they will be working together as a team.
Navigational Challenge
On the way in the car, I had attempted and failed to load the route into Strava (cannot be done on mobile), and I had no cue sheets or map. Cell service is patchy in the valleys which we would be going in and out of all day. Adding to the stupidity, I am pretty sure I have at least three sets of now "vintage" Almanzo cue sheets in a bin in my garage.
So, without navigation of my own, I was going to need to stay with others. Getting lost in "no man's land" in between groups of riders was now more than a lonely ride, unprotected from the wind, it was a near guarantee for getting lost  and adding miles on a day that was already setting up to be dangerously hot.
Rolling To Preston
We rolled out of Spring Valley in the trail of leaded exhaust fumes of an antique Norwegian Duesenberg(?) and onto the gravel. The bike was feeling good and I was feeling good. The heat was not yet up, but the wind was starting to kick a bit.
I joined the lead group of about 15 riders and noticed that there was already a gap between us and everyone else (who were probably, rightfully thinking in survival terms). We were holding a moderate pace, probably knocking down 20mph average with some tailwind. Nothing extreme, and nobody really pushing too hard. Everyone was playing things a bit safe. There was no PR happening today, that was for sure.
At mile 2.2 I was busying myself with nonsense like folding the edges of my race number which was mounted to my handlebars. I thought it would create a bit of an airfoil later and provide me with 2-3 watts of extra power. It was early in the day and there was energy for fun little mental diversions like that.
Probably on the first southbound leg around mile 20, going into the wind, about 5-7 riders were off the front and I fell back with two others, Ben and Phil, for the rest of the way into Preston at mile 40. We arrived at Preston in about 2:06 thanks to the friendly tailwind.
Preston, like most towns in the area, is on a river. The South Branch of the Root River in this case. The course follows the river into the valley in the covered coolness of the forest. Then there's a bridge and you roll in toward town.
It's a familiar pattern that repeats itself dozens of time on the course: downhill, valley, river, bridge, then uphill, open rolling plateau of farmland, downhill, etc.
The normal gauntlet of vehicles after the bridge coming into Preston was just not there. No need to panic, since there is a grocery store in town, but thankfully some volunteers were there with a truck and a bunch of water. I apologized as I required 5 bottles to get my three water bottles and my belly topped off. I ate a pickle wrapped in salami, said thank you, and rolled away.
Ben and Phil had rolled right through and there were no other riders around. I was in a bit of situation because I know the route from Preston, up a paved road then veer left and it turns into gravel a couple miles later. Beyond that, I really didn't know the turns. There were no more than 10 riders ahead of me, so the tire tracks would be minimal.
Phone A Friend
Slow rolling out of Preston without any other riders in sight, I decided to call my friend Michael who was up north at a lake to see if he could get on a computer, find the .GPX file, download it, upload it, share it — all while I was riding along the highway and before I arrived at the first unknown intersection up the road. He navigated the multiple steps and horrible website designs and sent me the link. I pulled into the shade of a small cemetery (cemeteries are always cooler, someone said later in the day that it's all the dead people that lower the temperature).
I got the route loaded, but it was looking strange on my phone so I was quite thankful when two riders passed as I was standing there. "You okay?" they each said. "Yup!" I said. And then I got back in the saddle, put on Credence Clearwater Revival "Live at Woodstock" and let out a hollering scream as I hit the road with cool and fresh legs. I was ready to roll!
It was mile 43 and about 10:30a. It was early. The darkness of the day was at least a couple hours away.
How Many Rotations From a Nib
Meantime, I was doing math in my head, trying to figure out how many pedal rotations I would gain from the very fortunate moment when I coughed and a small piece of energy bar was blocked from exiting my mouth as it hit the inside of my front teeth, meaning it was going back into the tank where I could convert it into some pedal power. I figured, over the next several minutes, that if I am pedaling 90rpm for 7hrs, then that is 90x7X60 = something like 40,000 rotations and maybe I burn 4,000 calories, so that 10 rotations per calorie and that little nib that nearly escaped was probably 3 calories, so that means I just recovered 30 pedal rotations. Phew. Good thing it didn't escape. I might need it later.
Gotta Have Some Skin In The Game
Heading southbound into the wind, the spirit of my victory holler and diversionary math was blown straight to the ground. The headwinds lasted for most of the next 13 miles. I had caught up with the two riders and was in sight of another one. I was able to proceed without needing to check navigation on my phone. As I rolled up to each them and chatted a bit and let them know I was flying blind. I followed their lead at the turns or if I was ahead I turned back and they kindly indicated the left or right.
Eventually the course started heading north again and the tailwinds helped raise my speed back toward 20, rolling at 20-25 in the open stretches. I was feeling really good — which is what it means to have a tailwind, I guess.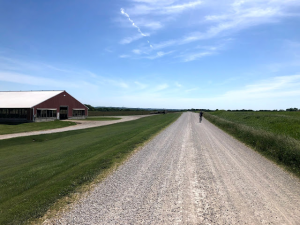 With the rows of small green shoots emerging from the crumbled dirt, and the grasses on the side of the road waving me forward, I was rolling steady along a slight downhill with an intersection ahead. I could see another rider up the road after the turn, and I started aiming at the hardpack gravel on the inside of the bend. I came into it pretty hot and the tires slid out on some loose stones as if it was ice. I was down fast, hands first, sliding on the road with one foot still attached to the bike.
I dislodged my cleat from the pedal and stood up quick to find I had taken a good layer of skin off my palm, and that my jersey was shredded a bit at the front. I don't think I was off for more than a handful of seconds — didn't even check to see if there was any damage to the bike. I knew I needed to keep an eye on that rider ahead or I'd have to slow down or rely on my phone connection. I knew if there was anything wrong with the bike that I would know soon enough.
I took stock of the situation as I rolled. My left hand was bleeding but not losing blood. I pulled my arm cooler down over where I had lost some skin on the road. It was a bit sensitive on the bars, but very workable. My leg was banged up and road-rashed but generally okay. Most fortunately, I managed to not re-injure my left shoulder which has just been recovering from an eerily similar fat bike slide-out spill on icy ski trails this winter.
Now, allow me a brief moment on equipment, preparation, and failure. In my equipment list which I have shared with many people numerous times over the past many years, there is always one (& only one) first aid item listed: electrical tape. Regardless of the color you choose, this is the one thing you should have for emergencies.  Anyway, I didn't have any with me for perhaps the first time — which turned out to be the first time I could have really used it.
Camping Out At Forestville State Park
Eventually, I spotted Phil (from mile 10-40) up the road a bit and caught up to him. We were both pretty worn out and just squeezing out enough power to get to the water stop at Forestville at mile 67.
As we rolled in, I staggered off the bike toward the restroom, unable to put words together when someone asked if there was an event going on.
There were about 5 riders there when we arrived, which means most of the front group was cooling off and refueling. Nobody was in a hurry. Nobody was in a hurry to fall over from heat exhaustion.
I laid down in the grass for a few minutes and Phil brought me a Coke from the cooler. I poured a couple waters over my head and investigated my hand, chatted with the volunteers and thanked them. I ate a pickle, but I didn't drink the juice like some of the others did. I heard somebody filled most of a water bottle with the juice and then rode off. I'm just not into that kind of thing.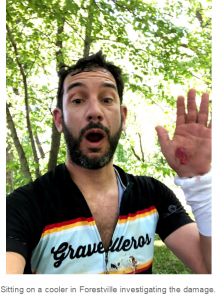 Phil asked for sunscreen that I offered, then put it on — just a bit — only covering the new tattoo of a hen he just had done on his forearm. I never did ask him "why a hen?" but I also find that unanswered questions are a bit of a mental delicacy in a world where so many things can be asked and answered so easily. It's a hen. I may never know why. And that's just fine.
Eventually — and I mean like 30 minutes later — Phil and I rolled out of Forestville. That's a super long stop. Some years I avoid stopping there entirely because it's a time sink and really tough to get back into a pedaling rhythm for the hills ahead.
Did I mention valley, river, hill, open plateau already? Well this is an epic one. Out of Forestville and then into the cool of the woods of Maple Road where there is a great little homestead on the left. Sunlight dances through the leaves onto the gravel road as it steadily increases the pitch, then drops into a valley and rises again until the sun and the farm fields come into view like the end of a tunnel.
Another Cemetery Stop
It's only about 10 miles from Forestville to Cherry Grove. There's sometimes a family and kids with a garden hose to share and usually a Banjo Brothers tent with bacon, M&Ms, whiskey, and beer (and sometimes stElvis! … must watch video here.)
No such festivities this year, but a pickup truck with a couple of race angels offering water was a godsend.
Phil and I rolled up and a bearded dude from Iowa was there sitting against the cemetery fence. We sat down to rest. Two flags in the background were stretched flat in the wind as if they'd been mounted on plywood, they weren't even flapping.
Couple of other riders rolled up looking shredding from the heat. Everyone flattening out on the cool grass. The shade and the breeze — could have stayed there all day. But in the sunniest time of day, the darkness beckoned and we got back onto our bikes and headed into it.
The Five Miles That Took Half A Day
Either I psyche myself into it or it's real, but it's real. Around mile 80, after the water crossing which was dry this year, there tends be a section where the darkness sets in. It may be doubts, or exhaustion, or the sense that time and miles have suddenly ground to a halt. Despite some tailwind, the miles just were not clicking away. Things just seem to stand still. Looking down at my computer, maybe a tenth of a mile would click off in what felt like several minutes.
It wasn't more than a few miles after the crossing that I told Phil to proceed on without me as I tucked into one of the very few shaded places I'd seen. Under a wide pine tree in the front yard of a farmhouse, I ate something. I set up Lee Scratch Perry's album "Revelation" in my earpiece and saddled up as I saw another rider approaching (and knowing I had navigational deficiencies).
Around mile 85, I started to snap out of it.
Oriole Road Facelift
At mile 90, Oriole Road appears. Only a bit over a half mile, but at nearly 10% gradient and normally rutted with washout and larger rocks, it's nearly always a dismount-and-walk situation. The times I have managed up it on the bike have been either on a fat bike (gearing & traction) or when I was wearing road shoes because of the heat (and those things are terrible for walking).
This year, or sometime since 2018, when I walked it last, the road was re-graded and newer gravel laid down. It was looking fresh but not deep. About as good as it gets.
When pedaling up the climb, it's not much faster than walking. Something in my head always starts believing it's easier to walk it. It's a mirage. It hurts like hell either way.  So I continued to pedal through and found decent enough lines to allow me to maintain balance at super low speeds and not spin out my rear tire.
Squeezing Juice From A Dried Lemon
Once I reached the top of Oriole, I could "smell the barn" and wanted to push harder, but it was into the wind and I only managed to average about 12mph. I simply was running on fumes and just trying to maintain consciousness and keep the pedals moving.
The last few miles are pavement and I usually find some extra punch to finish strong. Instead, I was doing 13mph and breathing heavy. Finally, there was the left turn onto the short stretch of bike path into Willow Park. Winding around to the right, through the trees I could see the flags of the finish line.
I crossed as the clock was about to flip to 07:41. I rolled another 20 yards and flopped sideways into the grass, gasping. I laid down.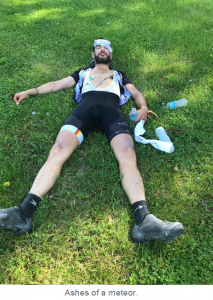 Paul W was there, having dropped around mile 40 and kindly waiting for me to arrive. He brought over several water bottles which I alternated between dousing and drinking. My back and leg began to cramp up so I laid there for a solid 20 minutes before lamely limping over to the car for the ride home. I was without speech, eyes closed, on the verge of spilling my stomach (which thankfully didn't happen).
Paul told me I had come in 11th. That's by far my highest placement ever (in any open category event). The heat definitely kept the fast effers at home and that's just fine by me. I'll take it.
There's no record book for this stuff, except for maybe a webpage somewhere (and this blog), but I am pretty sure I will bore the hell out of my grandchildren someday saying "Did I tell you about the time I finished 11th in a 100 mile gravel race … when it was 100F and the wind was over 30mph?" (Okay, it was only 90F and 15-25mph, but when you get older you get to say crazy and crazier stuff, right?)
Epilogue
Four of our seven riders abandoned part way through the day. They were the wiser ones. Craig stayed in and finished, but had over-hydrated (yes, this is a thing) … and perhaps under-supplied himself with "CRo Juice" which I now believe is a mix of bourbon and maple syrup. Next time maybe he will add pickle juice.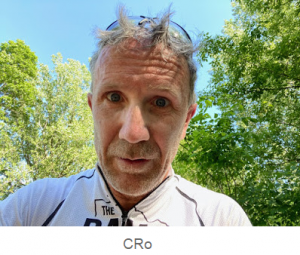 Thank You!
HUGE thanks to Paul Vogel, all the awesome volunteers/angels, and the City of Spring Valley for bringing this event back home! See you in 2022!!
Click Here for the Spring Valley 100 Gravel Bike Race Results!