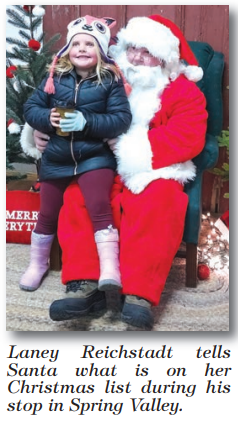 Original article published in the Mower County Independent, Thursday, December 8, 2022.   Reprinted with permission and gratitude.
By Gretchen Mensink Lovejoy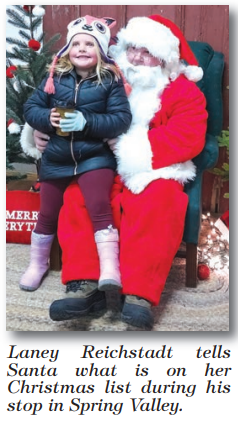 Oat, oat, oat! Merry Christmas! "We always enjoy cookies and milk, and sometimes people try to give us vegetables and fruits, but I give them to the reindeer because they can't have the sweets. Some cookies, I take home to my wife and the elves who couldn't get out to ride in the sleigh with me…oatmeal and raisin and oatmeal and butterscotch. If I see those, I try to take them home with me and eat them after Christmas because that's my favorite cookie…oatmeal and raisin and a big glass of milk," said Santa Claus, making a stop at the Spring Valley Community Center last Saturday evening, Dec. 3, during the Christmas on Historic Broadway celebration's Supper with Santa.
The Jolly One was dropping hints–but not crumbs–about what he'd like to find on plates at every few stops throughout the night on Christmas Eve as he delivers toys to local children. The crumbs all land in his long, curly white beard, which he said he's spent growing "all year long" to be looking his best for his night out.
"There are always little mice and birds that want to stop by and perch on my shoulder so that they can have the crumbs that I missed in my beard, but we have to be careful because there's sparkly glitter that goes with my beard, too – it's the same glitter that helps my reindeer fly. Rudolph is coming along this year, of course. I love all my reindeer, but he's a special reindeer who can help guide my sleigh, so he's a good asset to me."
Mr. Claus noted that preparations are underway for his flight through the cold sky, and he cited that there is work to do before he can imagine sitting down to pick up the reins and crack the whip to signal his team that he's ready to go. "We're working on finishing up the naughty and nice list and making sure that the equipment is ready, that it's not torn or broken so that the sleigh stays together. And the night before Christmas, I make sure that my outfit fits so that people know it's me, and Mrs. Claus and I might have some hot cocoa and go over the list one last time…sometimes closer to Christmas, kids can be more naughty than nice because it's so hard to wait, but mostly, they're all nice. There's people who get coal, but they're few and far between."
His stop in Spring Valley to hear Christmas wishes was a very busy one, and the children– and grownups–who sat on his knee had plenty of requests for him to bring them the things on their wish lists. "It's always fun to see that when I go to supper in Spring Valley, all the kids like to sit on my lap and tell me what they want. I think all kids like electronic things that make noise, gadgets to play with, things like games and PlayStation. Some want a whole bunch of things or just one thing. The last few years, I've heard a lot of kids who want their parents to come home from the military."
He hasn't quite figured out what to get for the town's re-elected mayor, however, because they're so well-acquainted with one another. Santa's not to be stymied, though, because it seems he and Mr. Tony Archer share an affection for oatmeal cookies. He added that perhaps he'd save a few just in case there are none left at the Archer household on Christmas Eve, and if he does so, it might make it easier for him to get down chimneys and into the little crannies that he uses as portals to deliver toys to homes that do not have chimneys. "I always get into the house if there's no chimney…I sneak into little holes, into vents, sneak the elves in, and then we make the vents bigger or smaller. There are ways of doing that, but sometimes parents leave doors unlocked just on Christmas Eve for me. But as for chimneys and houses without chimneys, there are a lot of secret ways to get into a house, but we don't tell because if everybody knows how I'm going to get in, they'll know I'm coming in that way."
He maintains a "leave few traces" policy, especially in the case of dirt tracked into houses…and in the case of reindeer poo if the team has a rooftop or front yard accident while awaiting his trip into and out of houses.
"Usually, if we spill anything, the elves clean it up while I'm in the house delivering toys. We have rails on the sleigh so that things don't fall out, and if the reindeer leave pieces of carrots while they're munching away up there, we try to get it all. It is hard to clear our tracks, however, and the elves do their best, but we do leave some glitter behind so that people know that we flew in."
He addressed the Spring Valley city ordinances and the courtesy of cleaning up after one's four-leggeds, saying, "We keep a special container for that in the sleigh…for reindeer poop. We have little reindeer bags that we use, and I make the elves do that as well while I'm inside the houses."
Of course, he appreciates all that his elves do for him to keep the work of delivering mittens and snowpants and…even underwear—but especially toys— to stockings in homes everywhere, and he looks forward to a night with a few flurries and a whole lot of magic.
Santa concluded that his own wish for Christmas is for peace, goodwill and just a few more cookies, please, and make them oatmeal.
Courtesy of the Mower County Independent, 135 E Main St. LeRoy, MN 55951, (507)-324-5325