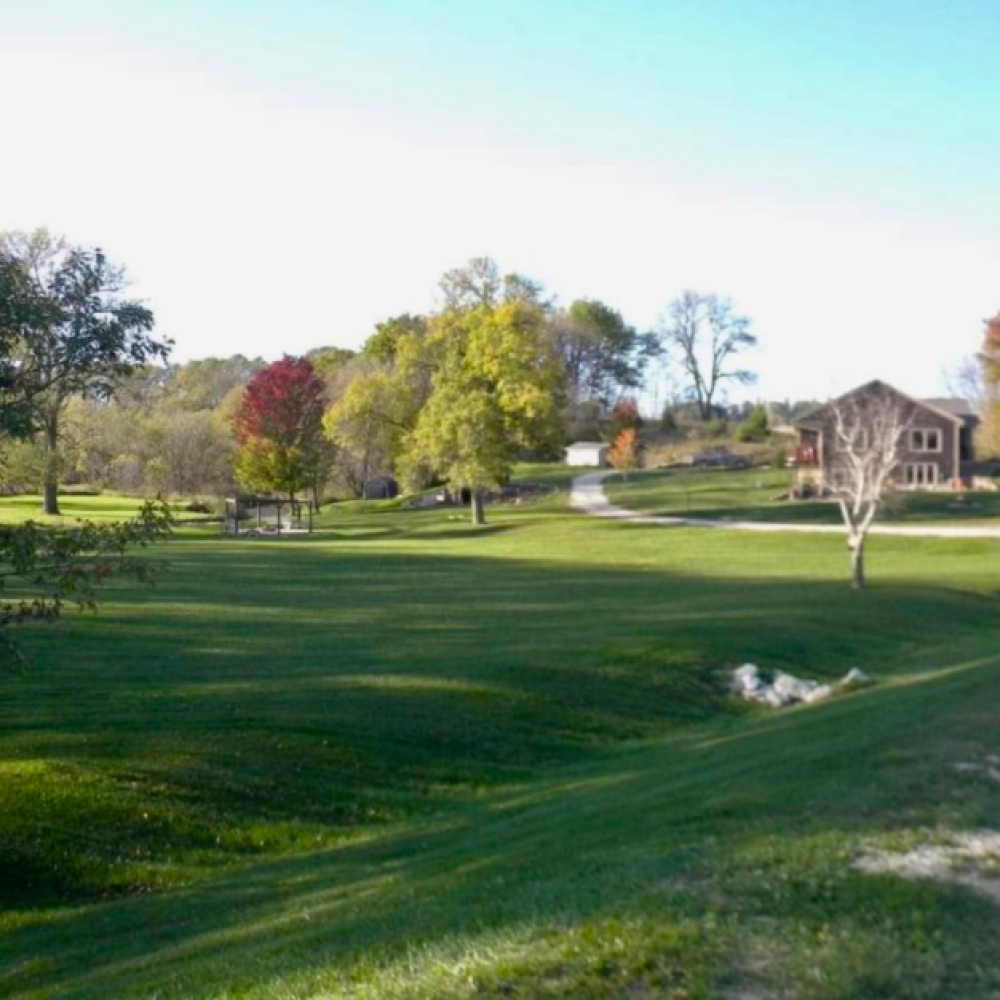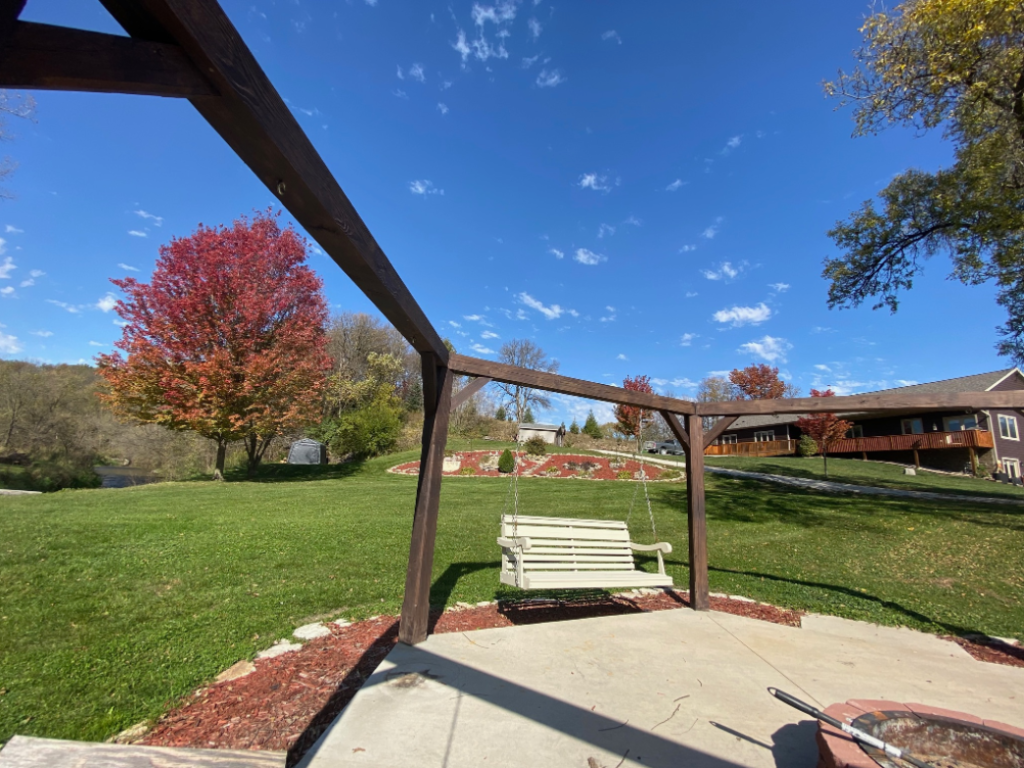 Rustic Valley Bed & Breakfast is now open, and it offers its guests the chance to experience all four seasons in beautiful Southeastern Minnesota. This new B&B provides a rural respite without needing to travel more than 20 minutes from the Rochester, MN metropolitan area. Nestled in the valley on five acres along Deer Creek just outside of Spring Valley, Rustic Valley is the perfect place for a quiet retreat, a long weekend in the country with family, or small gatherings with friends.
Located at the bottom of Hardscrabble Hill at 26671 141st Ave. just outside of Spring Valley, Rustic Valley Bed & Breakfast is the home of your hosts, Yvette (Vettie) and Jeff Halvorson. A visit will likely start with the official greeter, Bella, a border collie who greets you by patiently sitting down as you arrive in hopes of getting a little pat or scratch as a tip. The current property has been in the family for over 50 years.   When the opportunity for Vettie and Jeff to purchase it arose in 2014, they didn't hesitate.  Although the original stone home and barn homestead were replaced with a more modern home, a fire destroyed that in 2019, forcing the Halvorson's to rebuild their current home on the property.
"I have always loved being able to take care of people with a personal style of service," says Vettie, excited to explain how Rustic Valley B&B became a reality. "I worked in the hospitality industry for many years, and I have a passion for serving others, so it was important for me to find a way to continue to take care of people."  She adds that "one day I woke up and realized that THIS is the perfect place to serve others, and offer a quiet getaway in this beautiful area that we call home."
The current guest suite, located on the lower level, is a modern yet rustic, relaxed living space accessible to people of all abilities, with zero-step entry, a walk-in shower, and wide doorways. The guest suite features Asian walnut woodwork and tile flooring and provides a full-size refrigerator, microwave, and sleeping space for up to five guests. The suite also offers plenty of entertainment options, including a billiards table, dartboard, limited spirits, wine bar, TV, and free internet access. The walk-out patio provides guests the chance to sit outside with their favorite beverage and enjoy nature or sneak out and explore the valley before everyone else wakes up in the morning.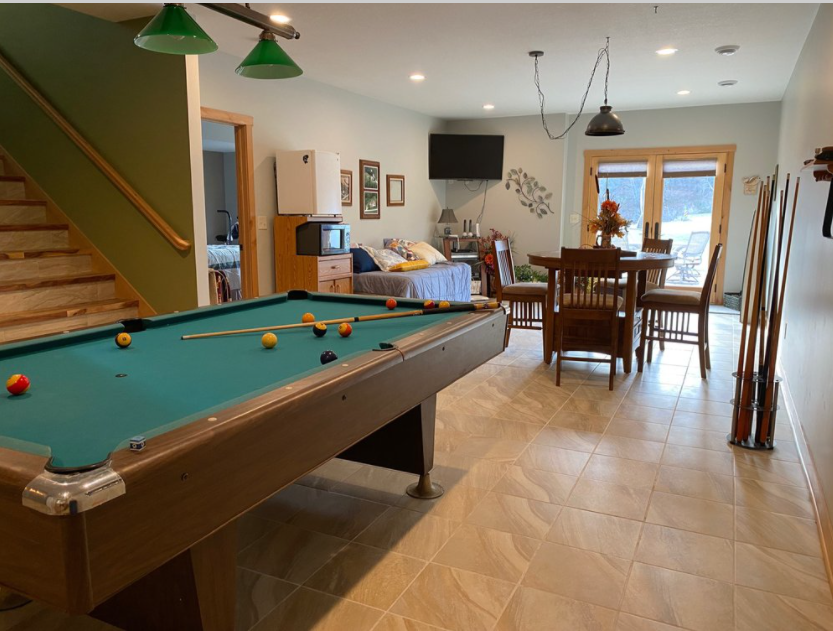 Once everyone is up, breakfast is offered from 7:00 – 10:00 AM. Several breakfast items are featured on the website and include sweet rolls, omelets, hashbrowns, and other Midwest favorites. Vettie also notes that they are happy to take requests and accommodate anything from food allergies, celiac diets, keto diets, to diabetic diets.
Rustic Valley B&B's five acres is ideal for hosting larger outdoor gatherings such as reunions, weddings, and graduation parties. They also offer a variety of family games including, bean bags, yard darts, badminton, and fishing. When asked about hosting larger events, Vettie, whose maiden name is Ramaker, laughs.  "I am number 16 in a family with 17 children. With a family that large, there was always something going on. When the entire family gets together it's an event, and this is an ideal space for those kinds of gatherings."
Jeff is perfectly content in his behind-the-scenes, yet crucial support role, making fixtures, performing maintenance, and continuously improving the property. He shares that they have plans to add more amenities. "We are thinking about adding a VIP Site across the driveway down by Deer Creek, with electrical hook-ups for just one RV…things like that we can offer to make it a better experience for people."
For more information about Rustic Valley B&B, or to reserve your stay, make sure to check them out at Rustic Valley B&B (rusticvalleybb.com), or call the Rustic Valley B&B at 507-319-0920, and Vettie will be more than happy to assist you!