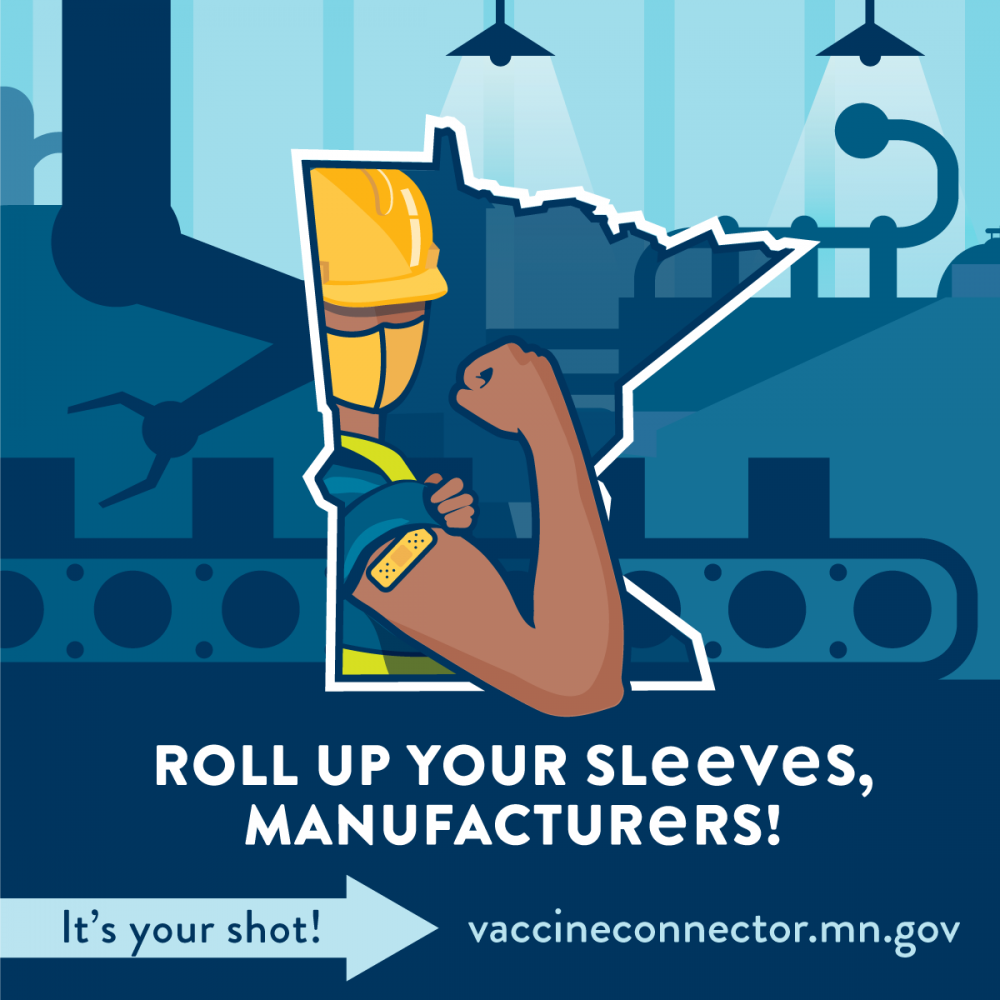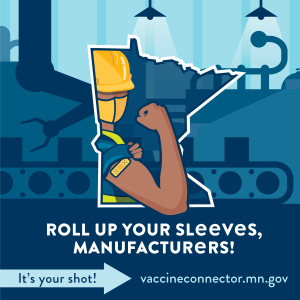 Communicated on behalf of MN-DEED Commissioner Steve Grove
Business and Community Leaders,
I hope you are all doing well. Thank you for your continued leadership in helping our business community weather the pandemic.
I'm reaching out today to share that we are doing a push this week to encourage workers in manufacturing to get vaccinated. There are more than 8,000 manufacturers across Minnesota, and this week, we are prioritizing their vaccine appointments through the Vaccine Connector.
We'd love your help. Here's what you can do:
Message your members, community, and employees in the manufacturing industry on the importance of getting vaccinated. Share with them that the state is proactively prioritizing manufacturers this week.
Share the employer toolkit with manufacturers in your community – it's the best resource for them to help their employees
Post on social media, using the attached graphics, to encourage manufacturing employees to get vaccinated. The hashtag is #RollUpYourSleevesMN
Your voice as leaders in our communities can make a big difference in accelerating our progress in vaccine distribution.
You may have heard about the CDC and FDA's recommendation to take a temporary pause on further administration of the Johnson & Johnson vaccine out of an abundance of extreme caution. It's important to note there have only been 6 incidents out of almost 7 million people who have received the J&J vaccine and we have no reports of any similar reactions in Minnesota.
We have moved quickly to adjust to this development and stand ready to continue vaccinating Minnesotans this week with almost 200,000 doses of Pfizer and Moderna. Our critical workforce is a top priority.
Signing up for the Connector means you will both be given information about where the vaccine is available near you and put you on a list to be contacted if there is an available appointment for you at a nearby state vaccination site.
Bottom line: The best way to get your employees or members a vaccine is to help them get a spot in line!
If you know that one of your employees or members is unable to sign up online, has questions, or needs language assistance, please direct them to call the Minnesota COVID-19 Vaccine Connector Hotline at 1-833-431-2053.
Please reach out with any questions, and thank you again for your help.
Yours,
Steve
Steve Grove | Commissioner – he/him/his – MN- Department of Employment and Economic Development
1st National Bank Building, 332 Minnesota St., Suite E200, St. Paul MN 55101