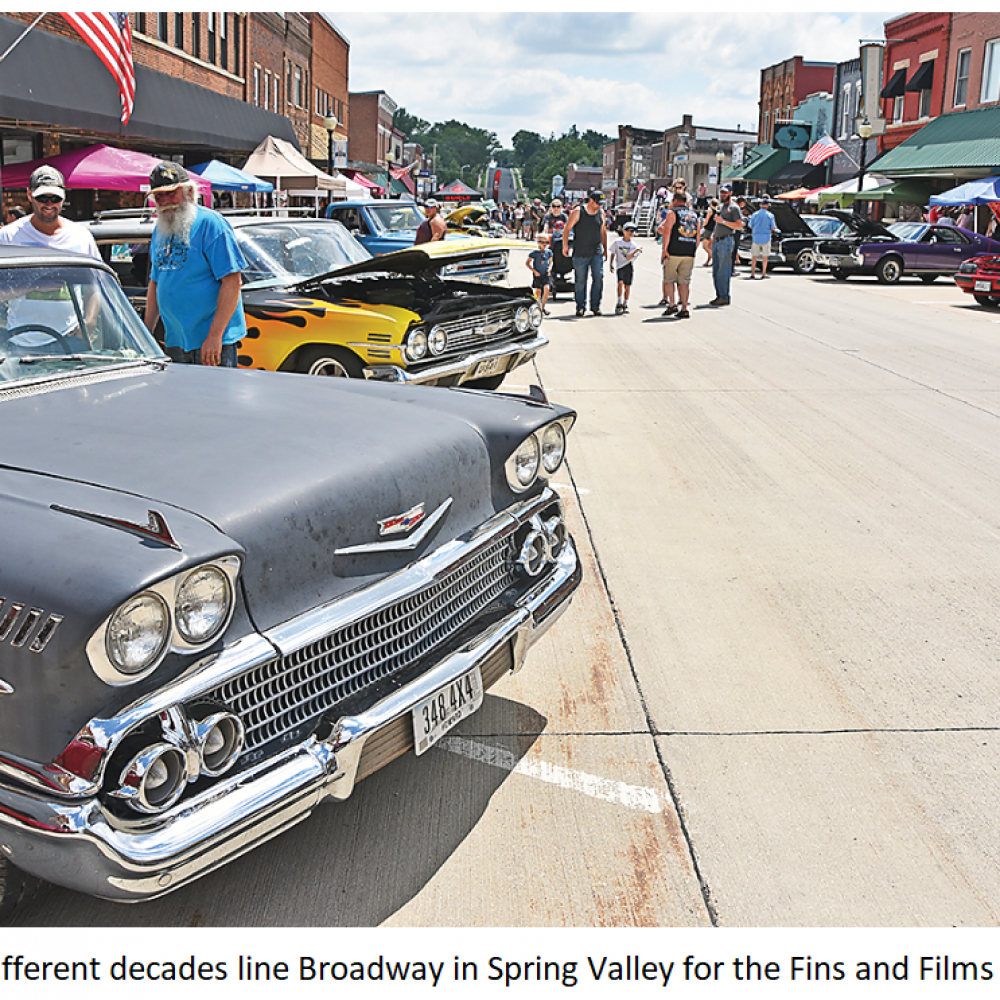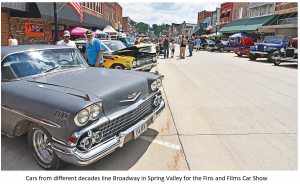 The Annual Fins and Films Festival is returning to historic Downtown Spring Valley, MN, this summer, on July 30th and 31st! For the past five years (excluding 2020), The Fins and Films festival has celebrated the cars and culture of the '50s, '60s and '70s with a Classic Car Show and Cruise, Live Music, Pin-Up Contest, Grass Drags, Crate Box Derby, and even a Drive-In movie, all right in the heart of downtown Spring Valley. "It's exciting to be able to have these events again," says Chris Hahn, EDA Director for Spring Valley. "COVID-19 didn't allow us to have any events last year, so being able to gather as a community with friends and neighbors for Fins and Films, it's a big deal!"
Fins and Films started as a simple idea over five years ago. It has evolved into a local nonprofit organization with a mission to educate people about the automotive culture and its impact on society. The two-day Fins and Films festival is an immersive event to teach people about that uniquely American car culture.  "Initially, I just wanted to help the community, specifically the downtown businesses, and bring people into Spring Valley," says Greg Melartin, Fins & Films founder and owner of Matt's Auto Body.  "I understood the power of car shows to draw people in, and the car show community is a great group of people!"  The Car Show draws classic car enthusiasts from the surrounding area and from as far away as Montana, and classic cars from all eras are welcome.
Greg also admits that he understands the importance of a good gimmick. Spring Valley's history includes once having a Drive-In Theatre. Keeping with that theme, Fins and Films has two automotive ambassadors, "Bella," a 1961 Imperial, and "Tubby," a 1950 Plymouth convertible, who provide a recognizable, year-round presence in Spring Valley. Bella proudly displays the words "Fins and Films" on her nearly 5′ long fins, while Tubby is all about top-down cruising, even on a ten below zero winter day… all to raise money for a good cause, of course. But Fins and Films is about more than just the cars.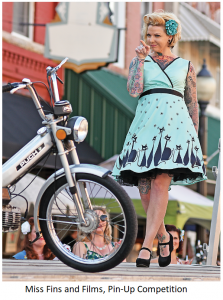 Another highlight each year is the Pin-Up Show featuring contestants in the classic '50s, '60s and '70s attire, complete with era-appropriate make-up, props and attitude, each competing for the honor of Miss Fins and Films. Jen Slifka, the owner of Chateau De Chic Salon, has organized the Pin-Up Context each year. "A lot of times when people think of traditional Pin-Ups, they think of dirty or risqué images, but our contest is family-friendly, I assure you," she says with a grin, "It's much more about celebrating and empowering women, and having fun." This year, children also get to share the spotlight in the Mini-pin Pin-up show, exclusively for the young beauties! Participants are told that when choosing a style and an outfit, think the '50s, '60s, and '70s…think GREASE, and you will probably nail the look!
When asked what his favorite part of the event is, Greg Smiles admitting that setting up for the Pin-Up Show is probably his favorite part. "I get to drive my 1959 Case tractor with the bucket down Main Street and help set up the stage complete with vintage 1950's era props, so that's a lot of fun."
This year's event looks to be bigger and better than ever. With more than two dozen local sponsors and expansion of the car show onto Courtland Ave., it promises to be a good time! "We have always had a great group of sponsors for our event," say's Melartin, "the community has been very supportive!"
For a complete list of this year's events, times and sponsors, click here:  Fins and Films Festival (springvalleyeda.org) or check out the Fins and Films Facebook Page Fins and Films – Posts | Facebook.