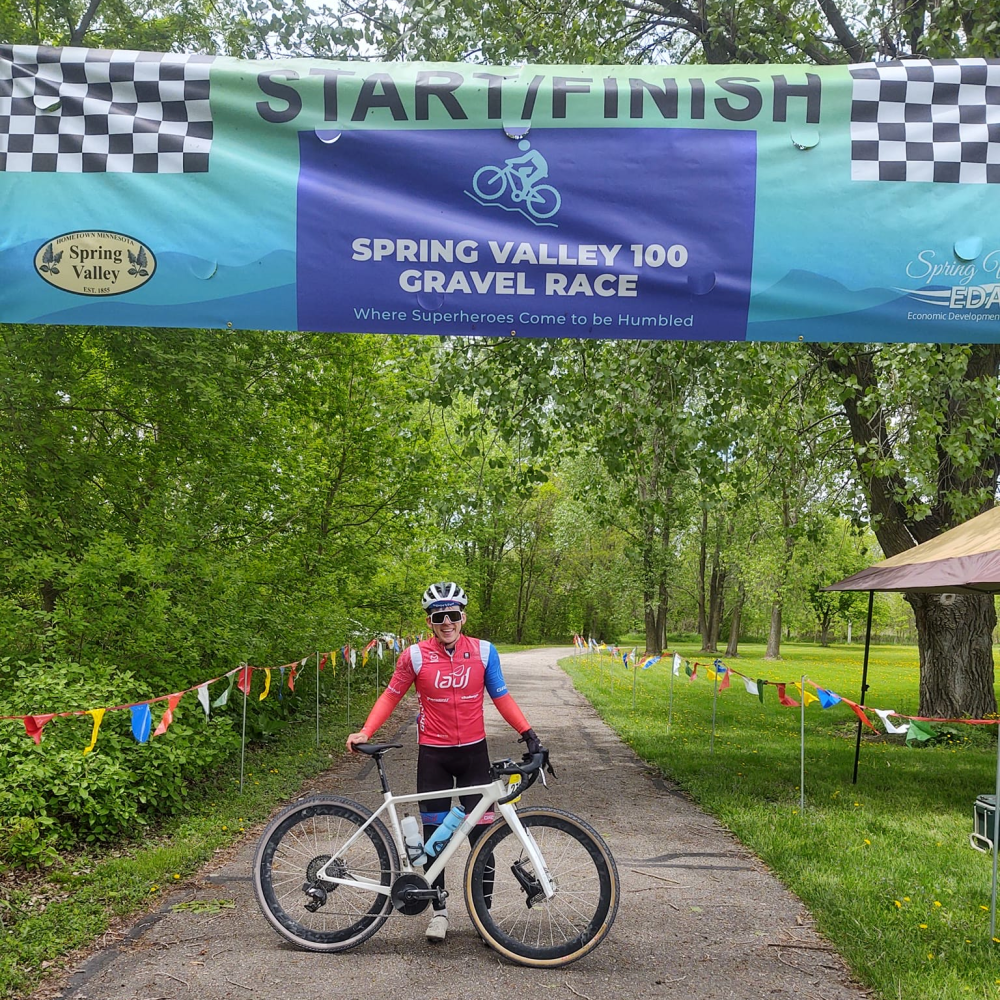 Congratulations to all SV100 racers who formed up on the Starting Line on a brisk Saturday morning. I believe all in attendance will agree that after the first hill climb the conditions were ideal for gravel racing; previous days' rains kept the dust in check, the temp was absolutely perfect, the wind was extremely favorable to push us to Preston and the sun/passing cloud mix was just right, although my son has a classic race kit sunburn he didn't expect at the day's outset…yes, the weather guessers missed the mark on predictions for Saturday, we all forgive you, yours can often be a thankless job.
Despite the rain during the week, not a single rider got their feet wet during the crossing this year, unless they went out of their way to hit the tadpole pool, Oriole Hill's grade hasn't eroded and the scenery was as fantastic as it ever is.
For those at the finish line when the first two bikes raced to the finish line you witnessed one of, if not the closest finishes since the routes' inception.  Winona's Chase Wark finished 2 seconds ahead of Wayzata's Steve Marshall. Congratulations to Neenah, WI's Jennifer Youngwerth who was this year's top female finisher.
Many thanks to the community for welcoming us back, to the downtown businesses who took care of us before during and after the race, a special thanks to Hop n Barrel, Stellar 181, the Pizza Place, Root River Auto, Bus and Diesel, Sunshine Foods, Minnesota Metals, Ody's Country Meats & Catering, the City of Spring Valley, Spring Valley EDA, Fire and Ambulance crews (who gave up their early Saturday morning activities) and County Law Enforcement who show up each year to provide a safe route to the race course. A big thanks to all the businesses that contributed to the best-of-the-best pop-up aid station at Forestville! We all owe a big thanks to Greg and Suzie Brooks, our perpetual hosts at Forestville; if you stopped there, you know how welcomed and comfortable you can get there…it's downright hard to leave.
How about Cherry Grove?  Shout it out for the Community Center caretaker at Cherry Grove for opening up the Center and putting a pot of coffee on and providing a cozy recharge station to help prep us for the final 26-mile grind and last four major climbs of the day. Let's not forget about those mystery race-angels who set out random water and snack stations; for those of us racing, it's akin to someone seeing a mirage in the desert…only our mirages turn out to be real! Whoever you are, we salute you!
While we present ourselves as grassroots and barebones to the core; making the process as simple for the riders as possible, it takes many volunteers and coordination work to pull a race like this off, many thanks to all who keep this Granddaddy of all Gravel Routes alive. See you next year!
Check out some of this year's Race Footage courtesy of the Hugo Gravel Group below!